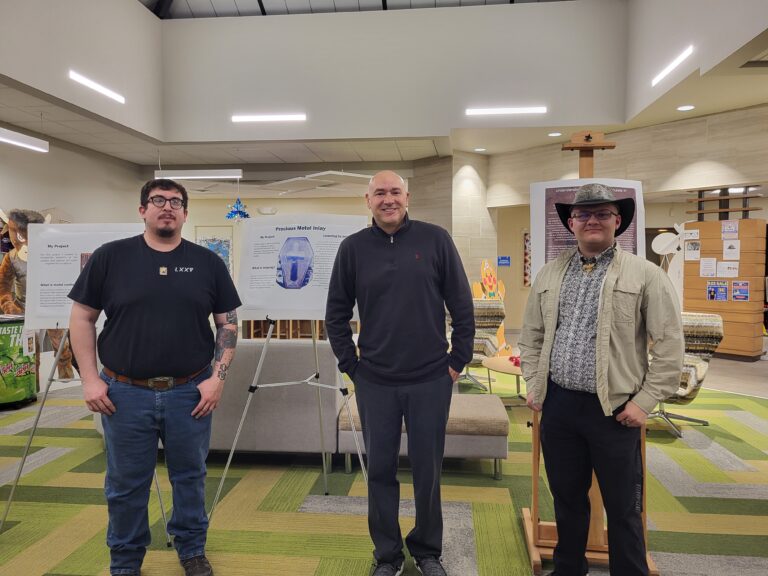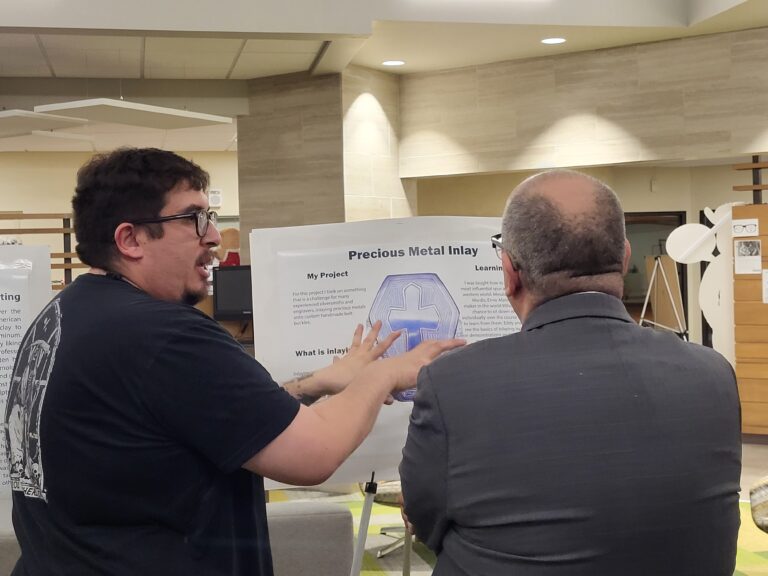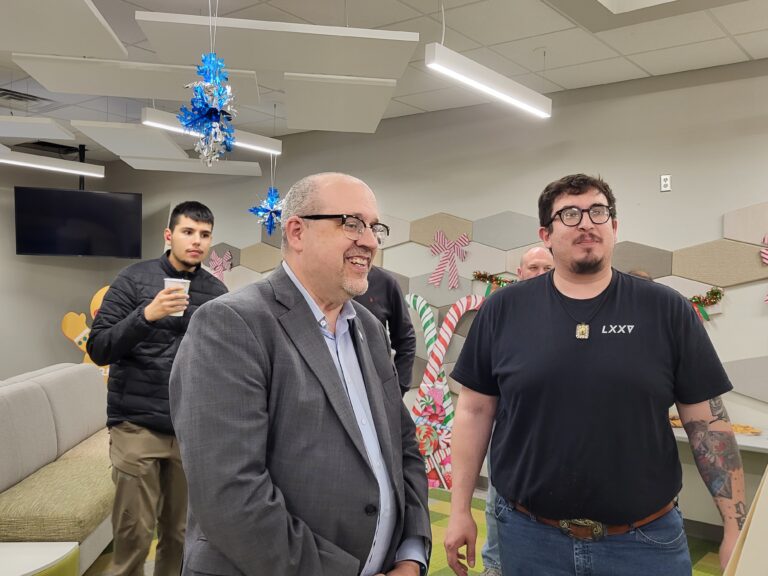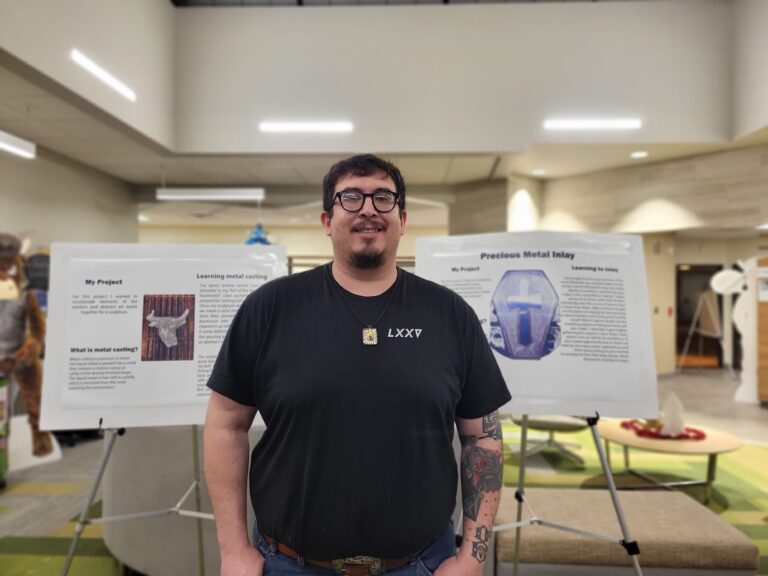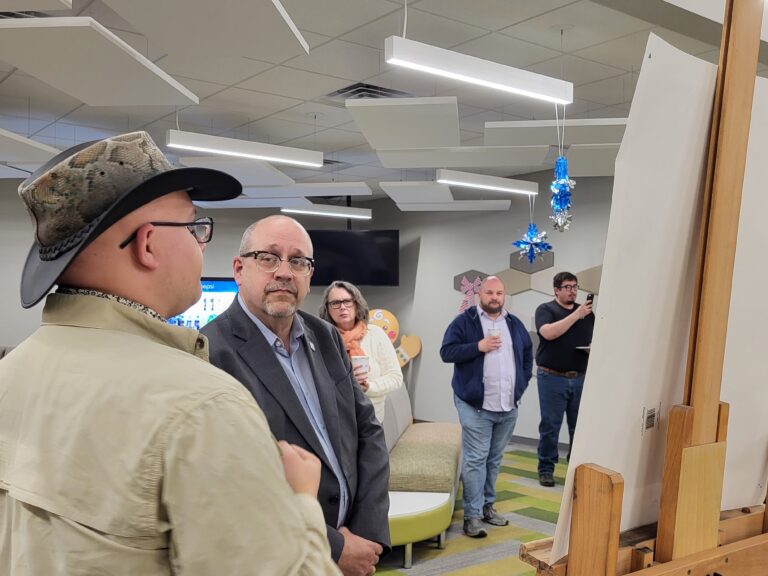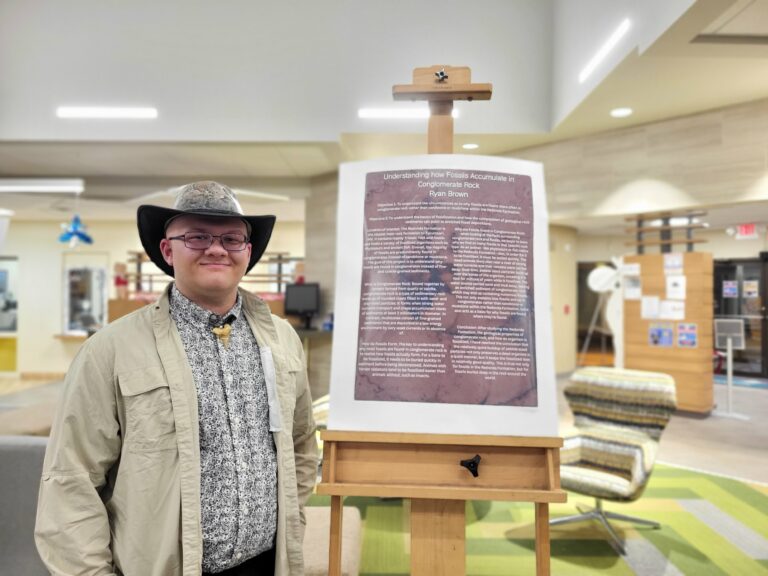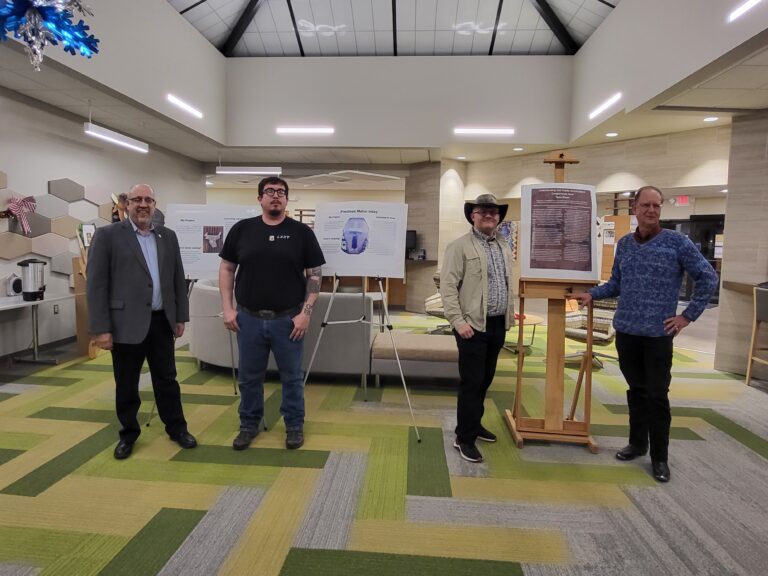 December 1, 2022 – Mesalands Honors College is a new program for the Fall 2022 and ended the semester with its first Poster Presentation on November 30th in the Building A Commons Area. Ryan Brown of the Paleontology program gave a lecture titled "Understanding How Fossils Accumulate in Conglomerate Rock" and Juan Martinez of the Cowboy Arts and Western Silversmithing Department gave a speech on "Metal Casting and Precious Metal Inlay".
Several Executive staff members were in attendance at the event including President and CEO of Mesalands College, Gregg Busch, Executive Director of Workforce Development, Mary Beth Busch, and Chief Academic Officer, Joel Kiser. Honors Professor of Paleontology Axel Hungerbuehler and Dean Garcia, the Director of Honors College also came to show their support. President Busch led the interview process and students met in the Presidential Conference Room following the presentation. When students were asked about their plans for the future, they replied with their great aspirations. Ryan Brown plans to work in dinosaur and natural history museums post graduation. Juan Martinez anticipates moving back to Texas where he already has a silversmithing shop set up.
Dean Garcia also expressed his gratitude at the event. "Thank you to Dr. Busch for giving me the opportunity to start and develop the Honors College. I would also like to thank Kimberly Lybarger, who is the Honors College Director at North Central State College (OH), for helping and guiding me in starting the Honors College at Mesalands. Juan and Ryan did a great job with their research and their projects. They are great ambassadors for Mesalands and our program. I look forward to seeing the growth and potential for our Honors College in future semesters."
Mesalands College has looked forward to starting new programs in a post Covid-19 academic setting. Many events that have been postponed for the last few years have also been revived, such as our presence in Tucumcari Main Streets' Fired Up and the Kid Wind Competition through the Wind Energy Department. The Honors College is looking forward to recruiting additional students who meet the requirements in the upcoming semester.
Requirements for the Honors College are for students to have at least a 3.25 GPA with a minimum of 12 credits. Students with a 3.25 to 3.49 GPA are eligible for provisional admission and will have to apply for regular admission into the Honors College. Students with a 3.5 GPA and above are automatically eligible to participate. Students that are interested in joining can contact Dean Garcia at [email protected]