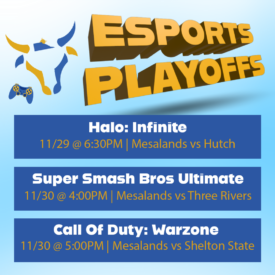 November 28, 2022 – Mesalands College Stampede Esports qualifies for the playoffs in Halo: Infinite, Super Smash Bros Ultimate, and Call Of Duty: Warzone. Competing under Division I in the NJCAA-E, the team proudly holds the title of New Mexico's first sanctioned esports team. Mesalands College started its first season in Fall 2022 and has met and exceeded all expectations with all teammates making it into the playoffs either as a starter or substitute.
"While technical issues and limited resources got Mesalands Esports off to a rocky start, our players' resilience and determination helped us persevere and earn 3 spots in the NJCAA-E Playoffs" says Head Coach, Nick Busch. "Many 1st year programs don't experience this level of success- but the comradery and efforts by all involved reflect our college and community." stated coaches Dr. Stephen Edwards, Nate Glaspie, and Destiny Zukevich in agreement.
Mesalands Stampede Esports is looking forward to adding Overwatch 2 to its lineup for the spring season, along with new recruits. With scholarship opportunities and a great team culture, they are eager to grow and add more players. If you are interested in joining the stampede, please email Nick Busch at [email protected]
To stay updated on the playoff schedule, please follow the Mesalands social media accounts and stream the games live at twitch.tv/mesalands.