Mesalands Community College offers preparation classes for the computer-based GED® Exam. The Adult Education (AE) Program at Mesalands Community College offers instruction to adults who do not have a high school diploma. Upon satisfactory completion of the GED® the student is awarded a New Mexico High School diploma.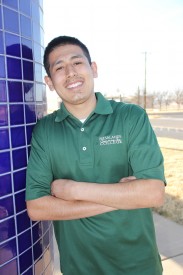 Free Services
The College provides free classes and materials to prepare students for the test in the Educational Services Center. These classes are held Monday-Thursday from 10 a.m. – 12 p.m.
GED Presidential Scholarship
Individuals who pass the GED® are eligible for the Presidential GED Scholarship, covering tuition up to 15 credit hours, to attend Mesalands Community College the semester following the successful completion of the exam.  Students must complete a free application for federal student aid (FAFSA) and in the event that he or she is eligible to receive the Federal Pell Grant, the Presidential Scholarship will be used to supplement federal funding up to the cost of tuition and fees.
The 2014 GED® Test is on the computer and contains four modules:
Science (90 minutes)
Social Studies (90 minutes)
Reasoning through Language Arts
(150 minutes, including a 10-minute break)
Mathematical Reasoning (115 minutes)
Cost
Cost of the full battery is $120, but can be paid per test ($30), if the test taker prefers to register and take only one test subject at a time.
Scoring
Test takers need a score of 150 (or higher) on each of the four content modules in order to be eligible to receive a high school equivalency credential (diploma).
Retakes
New Mexico's jurisdictional policy currently allows students to retake modules within the GED® test before completing all four modules.
Completion
There is a 30-day waiting period between test attempts, but GED Testing Services® will waive fees for two free retakes (per module).  Cost of retaking each module thereafter is $30
Scores are valid for three years beginning from the moment the first test is taken until all four tests are passed with a score of 150 or higher.
GED® Transcript and diploma requests
If you have completed your GED® at Mesalands Community College or in the State of New Mexico, you can purchase a copy of your transcript or diploma through www.diplomasender.com.  Cost of each request is $18 and can be paid by credit/debit card or money order/cashier check.
For more information, contact the Educational Services Center at Mesalands Community College at (575) 461-4413, ext. 144.