April 19, 2018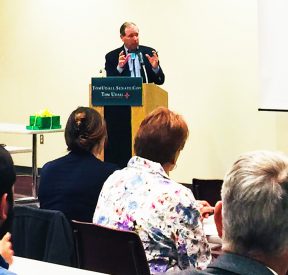 During Spring Break, U.S. Senator Tom Udall (left) held a 'Rural Resource Roadshow" at Mesalands Community College. The purpose of this forum was to bring together community leaders, including local, state, and federal officials, to discuss economic development for rural communities in New Mexico. There were approximately 60 people in attendance.
Dr. Aaron Kennedy (bottom left), Vice President of Student Affairs at Mesalands, gave the welcome and introduced Senator Udall.
In a press release, Senator Udall stated: "My goal with these Rural Resource Roadshows is to make sure communities know what opportunities are available from federal agencies, strategies for successfully applying for them, and how to leverage those resources to boost the economy in New Mexico's rural communities."
Organizers of the event, also said the staff at Mesalands provided impeccable customer service and they were very pleased with the location and the facilities.