September 14, 2015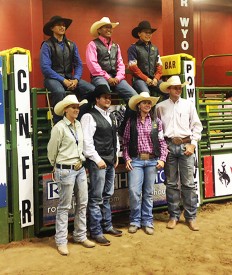 The Mesalands Community College Rodeo Team will have their first rodeo competition for the Grand Canyon Region this weekend at Diné College in Tsaile, AZ. With 43 student athletes on the team this year, the 2015-2016 season has already started on a high note.
"The College continues to build on one of the strongest rodeo programs in our region and it's exciting to see a large number of student athletes involved in the stampede rodeo program," said Dr. Thomas W. Newsom, President of Mesalands Community College. "Coach (Tim) Abbott and Assistant Coach (Staci) Stanbrough, over the last two years have built on a strong foundation for intercollegiate rodeo, that has brought pride to both our program and our community."
This year the Mesalands Rodeo Team has student athletes representing over 10 U.S. states, including:  AR, AZ, CO, CA, CT, MN, NM, NV, NY, PA, TX, WA and WY. There are 13 returners on the team and three of those student athletes were 2015 College National Finals Rodeo (CNFR) qualifiers: Chance Hunter from Chinle, AZ; Jacob Rounds from Broadalbin, NY, and Chace Valdez from Estancia, NM
Mesalands Rodeo Coach, Tim Abbott, who was also selected as the 2015 Grand Canyon Region Coach of the Year, said he had 21 student athletes on the team last fall. His preliminary recruiting goal this year was to have 30 to 35 students on the team, and to have 43 is a feat in itself. The Women's Team also has 13 competitors this year.
"More than just the numbers, I haven't been this excited about the quality of our team since I've been here. The talent level of our team is just outstanding. One of the things I'm most looking forward to this year, is that we finally have an extremely competitive Women's Team. We have more ladies on the team, than we have ever had before," Coach Abbott said. "We have been trying to reiterate over and over to our student athletes that they don't have to do anything outside their comfort zone, or anything above the abilities they have shown during practice. They are good enough already. They just need to believe in themselves and perform when the lights are on."
Coach Abbott said during his first year, the New Mexico State University Men's Team won all 10 rodeos that year. He says this is a benchmark that he is shooting for this year.
"My goal is for our Men's Team to win the first rodeo. You can't win them all, if you don't win the first one," Coach Abbott said. "You can't win the region at the first rodeo, but a strong performance at the first one, just sets us up well for the rest of the year."
The Mesalands Rodeo Team will compete in their first rodeo of the season at Diné College in Tsaile, AZ on September 18-19, 2015. The Mesalands Rodeo Team will also host their 8th Annual Intercollegiate Fall Rodeo on October 9-10, 2015 at the Quay County Rodeo Arena.