June 8, 2015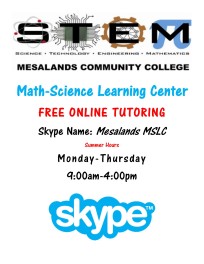 Mesalands Community College is now offering free online tutoring services through their Math-Science Learning Center. This month began the pilot online tutoring services, and the full launch will take place in August. This new service was provided by the Science, Technology, Engineering, and Mathematics (STEM) Department at Mesalands. The overlying goal of the STEM Department at Mesalands is to improve capacity and quality in STEM education, increase access and improve opportunities for success in obtaining baccalaureate degrees in STEM fields, and provide professional development opportunities to assist faculty members in integrating useful technologies for teaching face-to-face and electronically delivered STEM education.
"It's our goal to provide various online student support services that are intended to improve the online student's journey through their courses, and to ultimately increase learning outcomes, persistence, and completion," said Natalie Gillard, Vice President of Academic Affairs at Mesalands Community College.
Davina Montaño-McDaniel, STEM Math Success Specialist at Mesalands oversees the Math-Science Learning Center. She said online tutoring is open to all students at Mesalands and is not limited to students taking online classes. Montaño-McDaniel says she hopes this new service will encourage students to take more classes.
"Our main goal is student success and allowing more students to gain access to these types of services, without having to come on our campus. We want to be able to make it more convenient for them," said Montaño-McDaniel. "With technology today, students don't have to physically be here at the College to get help. We can also help students with just about any subject, but the majority of our students request help with their math courses."
For the summer, online tutoring will be offered Monday through Thursday, from 9:00 am-4:00 pm via Skype. These hours will be extended starting in the fall semester.
For more information, please contact Davina Montaño-McDaniel, STEM Math Success Specialist at
(575) 461-4413, ext. 113.