August 9, 2013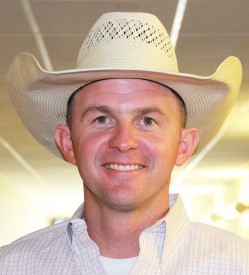 Mesalands Community College is pleased to announce that Tim Abbott from Midland, TX is the new Interim Intercollegiate Rodeo Coach. Abbott's extensive background in competing collegiately and professionally in rodeo, and his understanding of the importance of academics made him the ideal candidate for this position.
"We are very excited for our current and future rodeo student athletes to have Coach Abbott joining our program," said Dr. Thomas W. Newsom, President of Mesalands. "He brings the experience and a great passion for the sport that will continue to build on our program's success."
Abbott has been member of the Professional Rodeo Cowboys Association (PRCA) since 2008. According to the PRCA website, he is currently 20th in the world standings in the steer roping event. He also competes in team roping professionally.
"We are very proud that Tim Abbott has accepted the position of Mesalands Community College's Interim Rodeo Coach. Clearly his reputation precedes him," said Dr. Aaron Kennedy, Vice President of Student Affairs at Mesalands. "I'm sure Tim will continue to improve upon the Mesalands tradition of rodeo excellence."
Abbott attended the University of Texas Permian Basin in Odessa, TX from 2005-2006. He also attended Odessa College in Odessa, TX from 2001-2003. In college he competed in calf roping, steer wrestling, and in team roping. In 2001 he was named the Texas High School Rodeo Association All-Around Cowboy. Abbott was the Odessa College Rodeo Club President from 2002-2003. He was a College National Finals Rodeo (CFNR) qualifier in 2002 and in 2003. In 2008, he was the named the PRCA Steer Roping Rookie of the Year and the PRCA Texas Circuit All-Around Rookie of the Year. In 2008, he won the Cheyenne Frontier Days Championship title in steer roping and was a National Finals Steer Roping qualifier. Abbott was also the recipient of the Dixon McGowan Memorial Steer Roping Award.
"I'm very excited about this position. It was an opportunity that came up, that I really couldn't pass up," Abbot said "The reputation and the tradition that Mesalands has been building over the last six or eight years, is pretty incredible and I'm very honored to be next in line to carry out that tradition."
He is married to Kayton and has two daughters Rylee and Steely.
"My wife is excited about moving. Everyone that we've met in Tucumcari has just welcomed us tremendously. It feels like a very close community," Abbott said.
Abbott will be assisted by Staci Stanbrough of Capitan, NM. Stanbrough was recently hired as the new Assistant Rodeo Coach/Animal Science Faculty. Stanbrough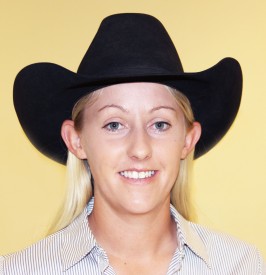 was a member of the New Mexico State University (NMSU) Rodeo Team in Las Cruces, NM, from 2006-2011. She competed in breakaway roping, goat tying, and in barrel racing. Stanbrough was a four-time qualifier for the CNFR and was an Academic All-American recipient for four years. She was highly involved with the National Intercollegiate Rodeo Association. In 2010, she was the National Student President and was the Grand Canyon Region Student Director from 2009-2011. She graduated from NMSU with a Masters of Agriculture with a Concentration in Domestic Animal Biology. She also received her Bachelors of Animal Science from NMSU. Recently Stanbrough worked at the Harry Vold Rodeo Company in Pueblo, CO. Harry Vold is a 11-time PRCA Stock Contractor of the Year. Stanbrough assisted Vold in conducting professional rodeos.
"The people at Mesalands have been really helpful and nice. I like that it's a smaller campus. I'm excited to help with the Rodeo Team as Tim Abbott's assistant. I think that we will be a good fit together," Stanbrough. "Hopefully, we can keep winning in the Grand Canyon Region and in the nation.
"The College has established a strong Rodeo Program over the years. With the addition of Tim and Staci, our program will continue to be one that both the College and the community can be proud of," Newsom said.  "I would also like to thank the screening committee for their time and effort in helping us selecting such fine candidates to represent Mesalands."
The Mesalands Community College Rodeo Team will kick-off the season at Dine College in Tsaile, AZ, September 20-21, 2013.