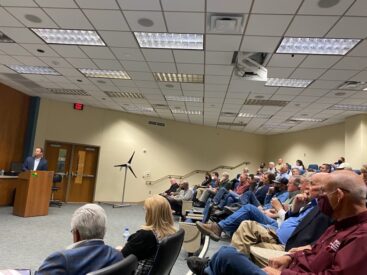 Tuesday, November 23rd Representative Jack Chatfield and Senator Pat Woods met with the community at the Center for Innovation and Renewable Energy on the campus of Mesalands Community College. The purpose of the meeting was to collaborate with leaders of Tucumcari, Quay County, and the surrounding area in anticipation of the annual legislative session.
The meeting was well attended by leaders and community members. Mesalands President, Dr. Busch was pleased to host the event and provide opportunities for the community to connect with state representatives in an effort to promote the success of Tucumcari, Quay County, and Mesalands Community College.
Dr. Busch also announced the creation of Mesalands College Center for Work Force Development for Tucumcari and Easter New Mexico. The center will include a business incubator as well as a location for current business creation. It will provide students and professionals opportunities to acquire the skills and credentials to be successful.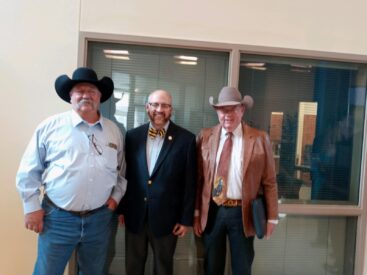 Mesalands College is partnering with Work Force Solutions and the Tucumcari Economic Developent Corporation. The center is headed by Jim Morgan, Vice President of Campus Operations and Work Force Development, with Executive Director for Work Force Development, Mary Beth Busch. The center has already become an active entity within the College as they are exploring and expanding through the development of state and federal grants and training for the expansion of business and industry with Tucumcari and Eastern New Mexico. the center is also working with each of the academic programs to develop entry level or micro credentials, especially within renewable energy dual enrollment, and agricultural programs. Center for Work force Development is located in building C. Dr. Busch stated, "The College is committed to work force development, student success and economic development in Eastern New Mexico."