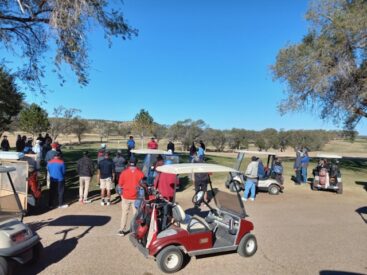 The Mesalands Golf Tournament on Saturday was a rousing success, with over seventy golfers showing up at Tucumcari's Municipal Golf Course to support the Mesalands team. Along with the staff of this historical Route 66 landmark course, Coach Marty Garcia and Mesalands golfers Mario Cordova and Tanner Croom played host to participants from as far away as Clovis, San Jon, and Santa Rosa.
Course Pro Charlie Maciel noted the local community's support for the golf team and Mesalands' role in sports and fitness activities. "This is what happens when education works," he said. He also indicated there was unanimous support for more such events in the future.
About one hundred people gathered for the opening remarks by Mr. Maciel, Coach Garcia, and Mesalands president Dr. Gregory Busch. Dr. Busch reminded the crowd that he is working towards an expansion of the Mesalands sports program, and that public events like the tournament will be an important part of introducing these new teams to the Tucumcari community. "When it comes to expanding and diversifying athletic opportunities," Dr. Busch said, "Mesalands is in a good place. A very good place."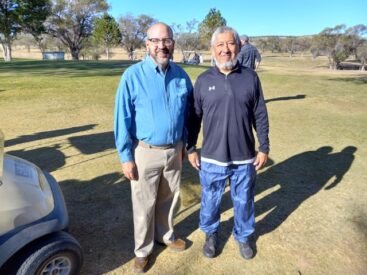 This fundraising event also served as an informal sendoff for Mesalands student athletes Cordova and Croom, who will be traveling to Hilton Head, South Carolina, this week for the NCCGA National Championships. Coach Marty Garcia said that money raised from this event will help pay for team equipment and apparel for next year, including a simulator/swing analyzer for indoor practice. After announcing the winners to close out the event, Coach Garcia said, "I would like to thank all who supported and helped make this event a tremendous success as we strive to put Mesalands golf on the map as a quality and respected program."
On behalf of Dr. Busch and the Mesalands community, our thanks to Charlie Maciel and the entire staff and membership of Tucumcari Municipal Golf Course!
Congratulations and thanks to Coach Garcia for his tireless efforts to make this event happen, and an extra special thanks to all the players, participants, and local supporters of this tournament!
And good luck to Tanner and Mario as they travel to South Carolina this week to represent Mesalands Community College on the national stage!