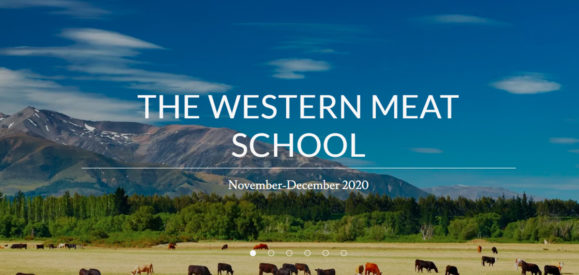 The Western Meat School is an innovative learning experience where farmers, ranchers, butchers, & others will learn how to direct market meat.
Welcome to the online home for activities of the Western Meat School (WMS) in New Mexico. Mesalands Community College is proud to be the coordinating academic institution in New Mexico for the WMS. This landing page provides an overview of the WMS activities as part of the collaborative effort of the Niche Meat Processor Assistance Network (NMPAN), Montana State University, University of Wyoming, Colorado State University, and Mesalands Community College.

Funded by Western Extension Risk Management Education grants and the Globetrotter Foundation. The Western Meat School is a modern, accessible, affordable, and time-efficient way for farmers and ranchers to learn the most practical aspects of producing and marketing meat while deepening their understanding of the full niche meat supply chain.
Class Schedule?
The course has scheduled classes every Wednesday evening from November 4- December 16th (skipping Thanksgiving week). See the detailed curriculum at Western Meat School.
Classes include around 90 minutes of lectures, 45 minutes of discussion/Q & A, and a 10 minute break between speakers.
Note: Local venues may have added in-person activities tailored to the evening session topics.
Where Are Classes?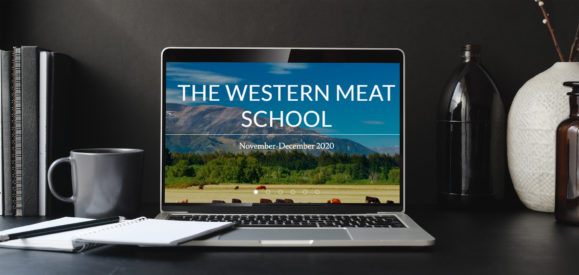 The six-week course is offered in a hybrid format, meaning both in-person and online classes are offered to those who are registered.
The course has scheduled three in-person locations in New Mexico. The site locations in New Mexico are Tucumcari (Mesalands Community College), Abiquiu (Rio Arriba Rural Events Center), and Moriarty.
COVID-19 Safe Practices: Social distancing, face coverings, hand sanitizer, & other precautions will be used at each site. If any site is cancelled due to COVID restrictions, those students can take the online version.
What Time Do Classes Start and End?
Each class begins at 6:00 pm Mountain Time and ends at 8:30pm each Wednesday for six weeks, not including Thanksgiving week.
What is the Registration Cost?
$120 per person or $160 for couples/business partners.
What is Included in the Cost?
A copy of the textbook "The New Livestock Farmer", access to all presentations, handouts, a private group listserv, and optional add-on modules.
Are There Scholarships?
Yes. Full-scholarships are available for dual enrollment, clubs and chapters of 4-H and FFA members in New Mexico registering through Mesalands Community College Dual-Credit Program. Click on the link for more information on the 4-H and FFA member WMS scholarships or submit a request for more information by contacting Dr. Manny Encinias at (505) 927-7935 or via email at [email protected]
A pool of scholarships are available for the rest of the country. The school has prioritized scholarships based on financial need and ethnic diversity. Apply at Western Meat School under Enroll or submit a request directly to the course director- [email protected]
How to Register If I am . . . (Click Applicable Link)
Highschool students/ FFA Chapters and 4-H Clubs
Earn College Credit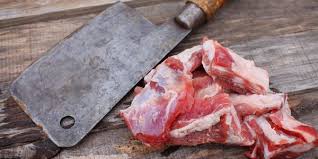 For college credit students must complete their registration.
Choose your Highschool on the registration form. If you do not see your high school listed please call (505) 927-7935
Upon completion a document will be sent to confirm registration requiring a signature from the high school counselor, student, and parent/guardian.
A College ID will be assigned with a login to Moodle, Email, and my.mesalands.edu (Students must log into my.mesalands.edu first and change their password).
The online course will be accessed through Moodle.
Interested in Animal Science? Click for Details
Contact: Dr. Manny Encinias mobile phone: (505) 927-7935 email: [email protected]