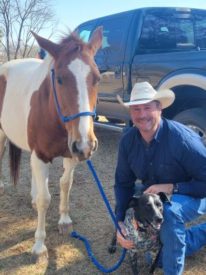 Dr. Randy Smith is an enrolled member of the Choctaw Tribe of Oklahoma. He has been involved in higher education for over twenty-five years. He has served in multiple positions in higher education including faculty member, program director, dean, vice president, college president, and president of a large national organization of colleges. Randy has been involved in rural college leadership at the national level for many years and his passion is helping rural colleges become sustainable, operationally sound, and highly successful in serving students, the community, and all stakeholders. His research interests include leadership in higher education and recruitment and retention of students at rural colleges. Randy is a regular presenter at state and national conferences on the topics of leadership in higher education and student recruitment and retention at rural colleges, and workforce and economic development in rural communities. He has testified several times in front of committees of the U.S. House of Representatives and the U.S. Senate as an expert on issues regarding rural higher education. He was an invited participant to the White House Summit on Community Colleges. He served as a member of the 21st Century Community College Commission that was charged with developing a long-term strategic plan for community colleges nationally. He also facilitated the first ever Memorandum of Understanding between a higher education organization and the U.S. Department of Agriculture. He facilitated the inclusion of rural community, technical and tribal colleges in the Federal Farm Bill, the first-time rural colleges have been specifically included in federal legislation. Randy received a three-year appointment from the Obama Administration to the America's College Promise Advisory Board. His true passion is helping colleges retain students to completion and he has developed training programs to assist colleges in all aspects of enrollment management. This includes a special program assisting colleges with Native American Male student retention. Randy also developed a Board Training Program entitled Roles and Responsibilities for Boards of Trustees at Rural Colleges and teaches this program across the Nation. He helped a rural district in Pennsylvania (Upper Alleghany) begin a new college by testifying in front of the Pennsylvania Legislature, writing their operational plan, and completing an on-the ground study including academic and technical program recommendations and needs.
Randy enjoys helping graduate students do research on community colleges and enrollment management and leadership. He has served on the program advisory committee for the Mississippi State University Ph.D. program in Community College Leadership and the University of Texas program advisory committee for the Ph.D. program in Higher Education Leadership.
Randy enjoys serving in the community and has held several positions including board chairman for a rural county hospital district, volunteer fire fighter and paramedic, member of a municipal police commission, and board member for a Regional Chapter of the American Red Cross. He is currently a state of Oklahoma certified law enforcement officer and has been for more than 14 years. He has provided service as a police officer to his rural community for many years. He served as a judge for the Miss Rodeo America Pageant in Las Vegas and he currently coaches rodeo queens and contestants from across the Nation. Daughter Emily was a Miss Rodeo Oklahoma State Titleholder.
Randy holds a B.A. in Political Science, an M.S. in Health Services Administration, and a Ph.D. in Higher Education Leadership. He also completed the Educators' Leadership Academy at the University of Central Oklahoma. He is a recipient of the USDA Lincoln Honor Award for his work with rural colleges and communities across America. This is the highest award presented by the US Department of Agriculture.
Randy and Dora have acreage with livestock near Seminole, Oklahoma. Daughter Emily is a student athlete at Northwestern Oklahoma State University (Freshman) where she is majoring in music education. Emily is an accomplished Track and Cross-Country athlete and is a member of the NWOSU Track and Cross Country Teams. Randy enjoys rodeo, ranching, working with horses, playing and coaching basketball, weightlifting, golf, community service as a law enforcement officer, and all outdoor activities. His favorite activity is simply being outdoors on his horse checking cattle and enjoying a beautiful Oklahoma day!