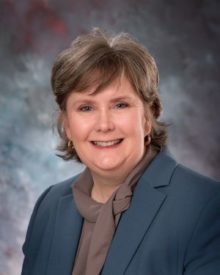 Dr. Laura McCullough, EdD, vice president of the Community and Corporate Education division at BridgeValley Community and Technical College (BridegValley), has 29 years of experience in higher education, first at West Virginia State University, an 1890 land-grant Historically Black College and University (HBCU) as a program coordinator, Kanawha Valley Community and Technical College, and finally at BridgeValley both as vice president. McCullough earned a master's degree in Business Administration at Oklahoma City University in 1991 and a doctorate in Education from Marshall University in May 2020. Her dissertation research was titled Perceptions of Academic Benefits of Work-Integrated Learning Among West Virginia Community and Technical College Students. McCullough is a Certified Distance Education Instructor and as taught Communications, Speech, Business Computer Software Applications, and Human Resource Management and Interpersonal Skills courses as an adjunct. Most recently, she completed the 2020 League for Innovation in Community Colleges Executive Leadership Institute.
McCullough's philosophy is "learning is learning" and that noncredit educational experiences should have the same rigorous curricular elements as do credit courses. Through her transformational leadership, noncredit programs at her current and previous institutions articulate into academic credit for degrees, if desired. Her success rests upon collaboration with colleagues and through the close community and industry ties she has developed and maintained during her tenure in higher education. She has also been effective as a grant writer and in acquiring resources for the institutions she has served.
McCullough serves on the local Workforce Investment Board, the Charleston Job Corps Center Community Relations Board, and works in partnership to solve workforce issues with area employers and service provider organizations, such as the West Virginia Real Estate Commission, Goodwill Industries, and Habitat for Humanity. She resides in Hurricane, West Virginia with her husband Joe.