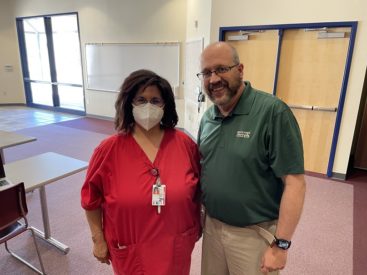 June 4, 2021 – Mesalands Community College held a Vaccination Event in partnership with Quay County Public Health yesterday. The College values student success and is determined to eliminate any barriers to students. Yesterday was another step in eliminating those barriers to succeed together in education.
Mesalands Community College is committed to a healthy workforce, to its employees, students, and the community of Tucumcari and beyond. Dr. Gregg Busch attended the event and offered thanks to Quay County Public Health for partnering with the College.
Mesalands Community College continues to Lead The Way in the health and safety of the community. Students attending Mesalands Community College who show proof of vaccination to Student Affairs will be eligible for a $25 Gift Card to its Campus Book Store and two tickets to the Dinosaur Museum. Employees who show proof of vaccination to Human Resources will be eligible for an additional day of vacation. In addition, those who are vaccinated will no longer be required to check-in or wear masks on campus.