November 9, 2018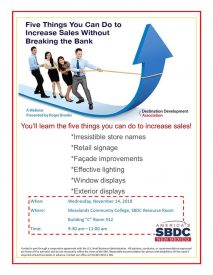 The Small Business Development Center (SBDC) will sponsor a "Five Things You Can Do to Increase Sales Without Breaking the Bank" Webinar on Wednesday, November 14, 2018 from 9:30 am-11:00 am. The webinar will be held in the SBDC Resource Room in Building C, Room 312. There is no charge to attend.
The webinar is presented by Roger Brooks, President of the Destination Development Association. During the webinar, participants will learn the five things business professionals can do to increase sales, which includes the following: irresistible store names, retain signage, façade improvements, effective lighting, window displays and exterior displays.
For more information, contact the SBDC at (575) 461-4413, ext. 140.