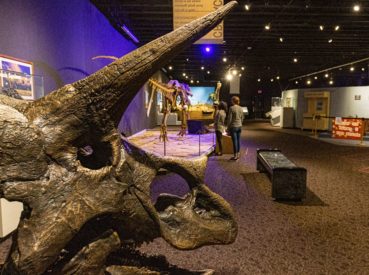 Los Angeles Filmmaker Howard Jones (Howie) spent a week with Dr. Hungerbuehler filming a dig. Howie is creating a documentary on Paleontologists featuring Dr. Hungerbuehler of Mesalands Community College. Dr. Hungerbuehler leads digs during the summer months in a field course. The course consists of proper excavation techniques and field work surrounding the late Triassic period. The digs occur in the Redonda Formation dating from 200 million years ago.
Tucumcari is uniquely positioned on one of the few locations in the southwest that have yielded abundant remains. Students search for vertebrate fossils from the "Dawn of the Age of Dinosaurs", record all pertinent data, excavate, examine, clean, and assemble finds. Specimens are transported to the viewing lab in the museum to be further analyzed.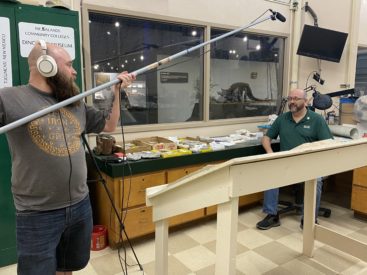 Guests of the museum are able to view the students at work uncovering and studying the past through a viewing window of the laboratory in the museum. Finds discovered and carried all the way through cleaning, recording and preserving are displayed in the museum with the student's photo who made the find. Students' work is on display at Mesalands Community College Dinosaur Museum and Natural Sciences lab.
Howie interviewed Dr. Gregg Busch, President of Mesalands Community College, regarding the history of Mesalands Community College, its programs, and the future of the College. The College is unique in its programs from Silversmithing, Ferrier Science, Wind Energy, and Paleontology. Students are able to work in the field from their first course and train on state of the art tools, such as the wind turbine located on campus, or the nacelle housed on the ground. Unique opportunities to lead the way await students looking to begin their career now.