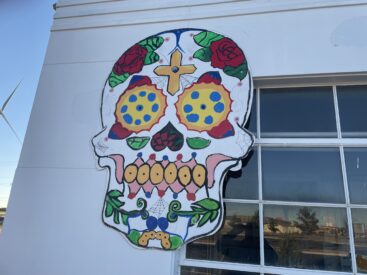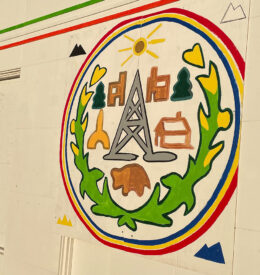 If you have been down Historic Route 66/Tucumcari Boulevard during this semester, you may have noticed something new: Students enrolled in Mesalands art courses have been painting and displaying a series of 'pop-up' murals to highlight different seasonal celebrations. Recent displays have featured images promoting Hispanic Heritage Month and Breast Cancer Awareness. And this week students painted several large, ceremonial 'sugar skull' images to commemorate Dia de los Muertos – which will be celebrated this year from Sunday, October 31st until Tuesday, November 2nd. The work was done by new art faculty member Nate Glaspie's painting class – and some art alumni volunteers.
On the opposite side of the building, a design has been erected in celebration of Native American Heritage Month.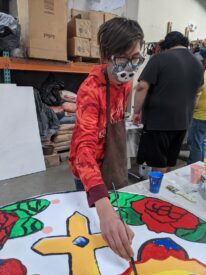 These large colorful skulls and designs are currently hanging on the side of the newly painted historical gas station which sits in front of the campus along Route 66 near the west end of Tucumcari. If you are in the area, we hope you will have a chance to drive, bike, or walk by to admire our student's work and get into the 'spirit' of this traditional Mexican holiday which coincides with Halloween – but whose imagery and celebrations are truly unique and profoundly spiritual.