August 25, 2014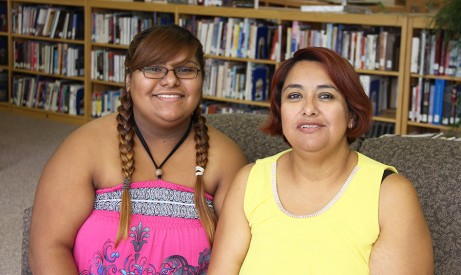 Angela Martinez de Griego, a former graduate of Mesalands Community College, recently came back to campus to help her daughter, Alyshia, register for the fall semester. Martinez de Griego was surprised how much the campus had grown since she was a student. She earned an Associate of Applied Science Degree in Business Administration from Mesalands in 1995. Martinez de Griego transferred to New Mexico Highlands University and received her Bachelor of Arts Degree in Elementary Education with a minor in Teaching English to Speakers of Other Languages (TESOL) in 1999. She is now employed with the Department of Defense Education Activity and is stationed in Naples, Italy. Martinez de Griego attributes her success in life to Mesalands Community College.
"Mesalands was the foundation!" said Martinez de Griego. "I started here when it was a vocational school and I came here to become a secretary. Then I changed my avenue to business and that was a stepping stone again to get my associates. After a while I changed my major to education, which was something I wanted to do, but I never imagined it would be possible."
Martinez de Griego was born and raised in Tucumcari and graduated from Tucumcari High School in 1991. Martinez de Griego was also a former employee of Mesalands. She was the Administrative Assistant to the Dean of Students for about seven years. During that time, she assisted in the North Central Accreditation process of Tucumcari Area Vocational School (TAVS) to Mesalands Community College. She married her high school sweetheart, Angel Sr. and has two children, Angel Jr. and Alyshia. She stated that her husband also attended Mesalands and earned a trade in business from TAVS.
Martinez de Griego was excited to see familiar faces during her visit back to Mesalands. She said Natalie Gillard, Vice President of Academic Affairs, was her advisor when she was a student at Mesalands.
"It's so nice to see so many familiar faces. A lot of my high school classmates work here as well, or their children attend here. It still has that family atmosphere."
Martinez de Griego and her husband have been employed with the Department of Defense Education Activity for the past 12 years. They were stationed in South Korea for eight years and have been stationed in Naples, Italy for the past four years. She teaches the children of the U.S. military. Her daughter Alyshia is now following in her footsteps.
Alyshia is starting her second year at Mesalands and is majoring in secondary education. After graduating with her associate's degree from Mesalands, she plans to transfer to a four-year institution to complete her bachelor's degree. She then wants to teach oversees. Alyshia explains how her mother's achievements have impacted her.
"Not a lot of people want to take the time out to go back to school like my Mother did," Alyshia said. "Then for her to get a good education and for us to be able to live miles and miles away as a family, is pretty great!
Martinez de Griego and her husband went back to Naples earlier this month.