November 4, 2013
Mesalands Community College would like to invite the community to the unveiling of the new wind-driven kinetic sculpture entitled "Dialogue" on Thursday,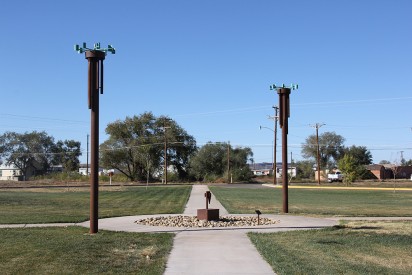 November 14, 2013 at 6:00 pm. The new sculpture has been installed in the entryway of the North American Wind Research and Training Center. Attendees to the unveiling, will witness first-hand the visual, sound, and aesthetic appeal of the new sculpture. There will also be fire dancers and music provided by the Tucumcari High School Choir, under the direction of Paul Gibson.
"I would like to invite everyone to the unveiling of the new Wind Center sculpture 'Dialogue.' This sculpture is a very unique cultural addition to our community," said Dr. Thomas W. Newsom, President of Mesalands Community College. "Following this event, we want the community to feel welcomed to visit this outdoor commons area, as we continue to enhance this area."
This new sculpture is part of the New Mexico Arts, a Division of the New Mexico Department of Cultural Affairs that administers the Arts in Public Places program. This program focuses on enriching New Mexico's public spaces through an innovative and diverse public art collection. The Arts in Public Places program assists agencies in selecting artwork for their communities.
After a nationwide search, Norman Andersen of Minneapolis, MN, was the selected sculptor for this project. Anderson has had previous experience with sculptures powered by wind and is the creator of "Dialogue."  This new sculpture has kinetic action with the rotation of the curved arms of the horizontal wind-wheels. The addition of sound is another unique aspect of this sculpture. Depending on wind speed and direction, the horizontal wind-wheels will play sounds of organ pipes. The sculpture will also have lighting for the community to enjoy at night.
Anderson explains the significance behind the name "Dialogue.
"I have been a college professor for 25 years and to me when you talk about education, it's always a kind of dialogue. To me that concept of dialogue, strengthens the community. The idea for this sculpture was rather than building a single monumental piece, I thought it would be fun and interesting to have two elements that respond to one another and have this kind of interaction between them," Andersen said. "Every single sculpture you create is unique and has its experimental aspects, especially sculptures that do something or perform. After a lot of experience, you can get pretty good at anticipating what you are going to get as a result, but it's always a surprise."