Bailey Bates of Mexican Springs, NM, secures International Indian World Champion title
September 17, 2012
Bailey Bates, 19, a member of the Mesalands Community College Rodeo Team, was recently crowned the 2012 International Indian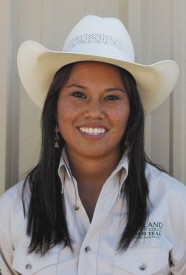 World Champion Breakaway Roper at the 8th Annual International Indian Finals Rodeo (IIFR).The rodeo was part of the New Mexico State Fair and was held September 14-16, 2012 in the Tingley Coliseum in Albuquerque, NM.
This is Bates second year to compete at the IIFR on behalf of the All Indian Rodeo Cowboys Association. Bates said she has been a part of this Association all of her life.
"I've grown up with it. My Grandpa was one of the founders of the organization when it first started. It's always been part of my family and I've been committed to rodeo because of this organization," Bates said. "It felt awesome that all of my hard work paid off and that I finally got my consistency down in one weekend. It's just a self confidence booster."
The top 15 qualifiers in each of the five Affiliate Associations of Canada and the United States, compete at the IIFR.  According to their website, the goal of the IIFR is to offer the next generation of the Indian rodeo competitors a place to compete and showcase their talents in a professional rodeo arena.
Bates said she has been competing in rodeo competitions for the past 10 years in breakaway roping and team roping. She said her brother, Michael, had a major influence on her choosing to attend Mesalands and compete on the Rodeo Team. Michael was a former member of the Mesalands Rodeo Team and performed very well, qualifying for the 2008 College National Finals Rodeo (CNFR)  and was a 2008 Academic All-American.
Bates is starting her second year on the Mesalands Rodeo Team and is majoring in Liberal Arts. In July Bates competed at the 2012 CNFR in Casper, WY and finished 13th in the nation in breakaway roping. She also contributed to the Women's Team finishing 4thin the nation and second in the Grand Canyon Region. Bates was also a 2012 Academic All-American recipient.  
"We are very proud to have Bailey at Mesalands," Dr. Mildred Lovato, President of Mesalands said. "She has not only performed well in rodeo, but she is also an exemplary student. Congratulations Bailey! We look forward to seeing what you achieve in the future."
C.J. Aragon, Mesalands Intercollegiate Rodeo Coach says he has enjoyed working with Bates and is very proud of her accomplishments.
"Bailey has an impressive resume. What she has done already in her rodeo career is pretty remarkable and she's not finished. She's going to add a lot more over the course of the next couple of years," Coach Aragon said.
The Mesalands Rodeo Team will kick-off their first rodeo competition of the season this weekend at Dine College in Tsaile, AZ, September 21-22, 2012.