Mother and daughter, Julie Keck and Megan Williamson receive distinguished honor
February 26, 2013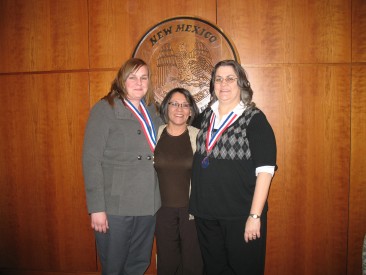 Mesalands Community College is pleased to announce that mother and daughter, Julie Keck and Megan Williamson have been selected to the 2013 All-State New Mexico Academic Team. This honor recognizes their commit­ment to academic excellence. Each student will receive renewable full-tuition scholarships for up to four consecutive semesters towards a bachelor's degree at a New Mexico public university or college. Keck and Williamson were recognized at a ceremony held at the State Capitol in Santa Fe last week.
"It's pretty cool to share this experience with my Mom, she gets to see me not only excel, but she gets to be by my side," said Williamson.
Williamson will be graduating in May with an Associate of Arts degree in Pre-Med from Mesalands.  She is applying to the University of Nebraska Medical Center in Omaha, NE and Virginia Commonwealth University in Richmond, VA. She plans to major in radiology.
Keck will be graduating in May with an Associate of Applied Science degree in Business Administration with an option for Accounting from Mesalands. She plans to get her Bachelor's degree in Forensic Accounting. Keck is still undecided as to which university she plans to attend.
"I have always pushed Megan to do her very best and she has always excelled and to share this honor and experience with her just makes it all the sweeter," said Keck.
Keck and Williamson have big plans for the future and this scholarship will make many of their ambitions a reality.  Keck plans to move to Council Bluffs, IA after graduation and Williamson plans to move to Omaha, NE.
"We are very proud of Julie and Megan for what they have accomplished together. They both are committed to achieving academic excellence and are very involved in this community as members of Phi Theta Kappa," Dr. Aaron Kennedy, Vice President of Student Affairs said. "On behalf of Mesalands, we wish them both future successes, as they continue to reach their educational goals."