February 19, 2018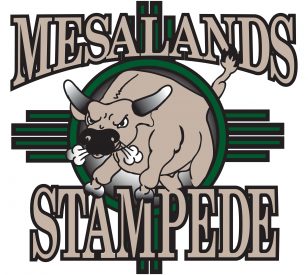 The Mesalands Community College Rodeo Team will begin the spring season at Cochise College in Sierra Vista, AZ on March 2-3, 2018. The Mesalands Rodeo Team will have a total of six rodeo competitions this semester, four in Arizona and two in New Mexico.
"Our student athletes are more relaxed and are really starting to compete to the best of their ability," said
Matt Hughes, Intercollegiate Rodeo Coach and Faculty Member at Mesalands. "This semester we have more opportunities to finish the season strong."
The Men's Team has a solid start in the bull riding event. Freshman Levi Gray from Dairy, OR is currently second in the Grand Canyon Region in bull riding.
"Levi is an exceptional bull rider; and with the talent we have, I expect to win the bull riding title at every rodeo," said Coach Hughes. "I don't know if this will happen, but it should."
In addition to Gray, Coach Hughes says he has high hopes for bull riders Jared Noseep from Ft. Washakie, WY and a new member to the team, Bailey Saunders from Greenwich, NY. Saunders will also compete in bareback riding.
Bareback rider Scotty Bevins from Amsterdam, NY will not be competing this semester, due to a broken arm. Bevins ended the fall season fourth in the region.
Coach Hughes also stated that the Mesalands Women's Team has had some strong performances during practice and believes they are ready to advance in the regional standings.
Coach Hughes was excited to report that the Mesalands Rodeo Team had an average GPA (grade point average) of 3.1, after recently submitting the student's transcripts for eligibility to the National Intercollegiate Rodeo Association (NIRA). There were also multiple student athletes that made the Vice President's List for the fall 2017 semester.
"As far as academics, we have a great group of students," Coach Hughes said. "This is just a good standard to have for a college athletics team."