April 21, 2014
The Mesalands Community College Rodeo Team is preparing for their last two rodeos of the season at New Mexico State University (NSMU) in Las Cruces, NM, April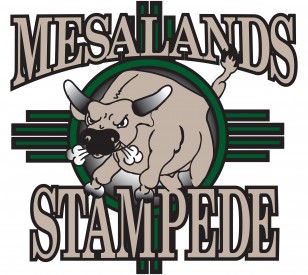 26-27, 2014. Following these rodeo competitions, the qualifiers for the College National Finals Rodeo (CNFR) will be announced.
"We want to wish the Mesalands Rodeo Team good luck at New Mexico State University this weekend," said Dr. Thomas W. Newsom, President of Mesalands Community College. "We are so proud of the performance of our student athletes this year."
The top three competitors in each event qualify for nationals.
In tie down roping, sophomore Kit Pettigrew of Ft. Sumner, NM is currently second in the region with 466 points. With only six points from leading the region, Pettigrew not only has a good chance of competing at the CNFR, but also is close to winning the regional championship title. Fellow teammate sophomore Hayden Moore of Clovis, NM is less than 130 points from third place in tie down roping. With the number of points that are available this weekend, Moore's goal of competing at nationals is still obtainable.
Representing the Women's Team, sophomore Betty Jo Pack of Aztec, NM, is sitting ninth in the region in breakaway roping. However, the third through eleventh places are separated by less than 140 points. Pack could possibly be earning her second opportunity to compete at nationals.
In saddle bronc riding, freshman Sam Taylor of New South Wales, Australia, is only 100 points from third place in the region. Taylor is currently fourth with 343 points.
The Mesalands Rodeo Team has many team ropers fighting for their ticket to the CNFR. Sophomore Chaz Kananen (header) of Roy, MT and sophomore Daniel Baeza (heeler) of Chihuahua, Mexico, are currently sitting second in the region with 601 points. This team has a strong chance of competing at nationals with the fourth place competitors earning 342.50 points. The other team ropers will be working hard for that third place this weekend: Moore (heeler) and Rusty VanSoelen (header) from NMSU; sophomore Morgan McVay (heeler) of Sparks, NV and Victor Ugalde (header) from NMSU; and sophomore Mike McGinn (header) of Haines, OR and Jacob Rounds (heeler) of Brooklyn, NY.
The bull riders have also had a fine performance this season. Sophomore Devren Myers of Santa Fe, NM is sitting at a good spot. Myers is currently second in the region with 306 points. Myers has a strong chance to advance to nationals with the third place competitor earning 145 points. Sophomore Adriano Long of Dilkon, AZ is only 35 points from a CNFR spot right now. Long will basically need to ride one bull and place at one of the rodeos this weekend to clinch his CNFR ticket.
The Mesalands Rodeo Team is ready to send more student athletes to the CNFR, after announcing sophomore Edmiles Harvey of Tsalini Springs, AZ, earned his CNFR spot. Harvey is currently third in the Grand Canyon Region with 784 points. He is also currently 25th in the nation.
"If the year was over today, we would have five qualifiers for the CNFR," said Tim Abbott, Interim Intercollegiate Rodeo Coach at Mesalands Community College. "We are hoping with a strong performance at Las Cruces, we can increase that number to seven, or possibly eight and I would be really excited about that."