June 30, 2014
The Mesalands Community College Rodeo Team recently competed at the College National Finals Rodeo (CNFR) in Casper, WY. The Mesalands Rodeo Team had seven qualifiers, the second highest CNFR qualifiers in the State of New Mexico.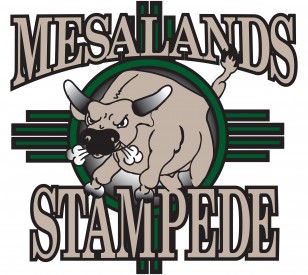 "The college finals went well and I'm very proud of our student athletes. I was impressed that our small college was extremely competitive against some of the other major universities. In some cases, they competed better than the other universities," said Tim Abbott, Intercollegiate Rodeo Coach at Mesalands Community College. "Our student athletes didn't feel outgunned or outclassed by anybody. They felt that they belonged there, because they did."
Sophomore Daniel Baeza of Chihuahua, Mexico advanced to the short round in team roping. Baeza had a strong performance at the 2014 CNFR and finished 10th in the nation.
Coach Abbott did state some of the CNFR competitors, did have a couple of mishaps that had a major impact on them winning a national title.
Sophomore Kit Pettigrew of Ft. Sumner, NM was one of these students. Pettigrew competed in tie-down roping at the college finals. His first calf kicked out of his tie before the six-second time limit. This run basically took his chances of winning a national title away. Pettigrew did rebound very well with his second calf, and had an eight second run. This was the fastest run of the entire 2014 CNFR and was close to setting a record.
Sophomores Chaz Kananen (header) of Roy, MT and Morgan McVay (heeler) of Sparks, NV competed in team roping at the college finals. They had a solid performance in the third round, roping their last steer in 4.5 seconds. They too would have been close to setting a CNFR record, but Kananen broke the barrier which cost them a national title.
Other Mesalands CNFR competitors included: Edmiles Harvey of Tsalini Spring, AZ (bareback riding); Devren Meyers of Sante Fe, NM (bull riding); and Betty Pack of Aztec, NM (breakaway roping).
Mesalands Community College President Dr. Thomas W. Newsom celebrated the accomplishments of the CNFR qualifiers, by having a luncheon for the student athletes and their families in Casper. He presented each student with a trophy at the event.
"Our Mesalands student athletes did a fantastic job at the college finals. They represented our institution and our community very well. We are very proud of their hard work and dedication to both their athletics and academics," Dr. Newsom said.
Coach Abbott plans to have 25-30 student athletes on the Mesalands Rodeo Team for the 2014-15 season. There will be seven to eight returners and about 20 freshmen.
"The college finals really encouraged me going forward," Coach Abbott said. "Our Rodeo Team obtained some amazing experience and got them excited about working hard and practicing hard, as we get ready for next year."
Mesalands Community College will host their 7th Annual Grand Canyon Region Intercollegiate Rodeo at the Quay County Rodeo Arena on October 10-11, 2014.