January 7, 2020
Fourteen dual enrollment students from northeastern New Mexico, recently completed their first semester in Wind Energy Technology at Mesalands Community College. Their training included climbing the 1.5 MW wind turbine, located adjacent to the North American Wind Research and Training Center at Mesalands. This initiative is part of the Northeast New Mexico College and Career Consortium (NNMCCR).
Last year, the Legislature approved $103,000 to the High Plains Regional Education Cooperative (HPREC) to develop and operate a college and career readiness consortium for middle and high schools students in northeastern New Mexico. State Sens. Pete Campos and State Reps. Jack Chatfield and Joseph Sanchez supported this bill. The eight schools in the consortium include: Cimarron Municipal Schools, Clayton Municipal Schools, Des Moines Municipal Schools, Maxwell Municipal Schools, Mosquero Municipal Schools, Raton Public Schools, Roy Municipal Schools, and Springer Municipal Schools.
HPREC through the NNMCCR provides meaningful work-based learning experiences that align to dynamic sectors of New Mexico's economy, which leads to credentials recognized by business and industry. Jack Forrester, Director of the NNMCCR and an employee of HPREC, says this consortium allows the schools to share resources and continue their commitment to educational excellence.
"We appreciate the opportunity and the foresight of these schools to come together to do this and also the cooperation and the willingness from Mesalands to make it successful," Forrester said. "This is the way of the future. There are so many job opportunities for these young people in wind energy and we just thought it would be a great starting point for this program."
Forrester also explained how highly motivated these high school students are to add college courses to their high school schedule. He says the students will take 17 credit hours to earn an Occupational Certificate in Wind Energy Technology from Mesalands. These credit hours include online courses and "hands-on" courses such as, Wind Turbine Climbing and Safety courses, which are held at the Mesalands campus. This certificate program covers the following: turbine maintenance and monitoring, communications technology, safety, motors, generators, and mechanical systems. Students who complete this program will be prepared to ease the shortage of trained wind energy technicians.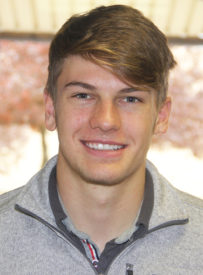 Aaron Sakelaris, 17, Dual Enrollment student from Des Moines Municipal Schools, explains his first experience climbing the turbine at Mesalands.
"It was awesome! Its mind blowing the size of everything from up there and everything that goes into it. You feel like you're on top of the world," said Sakelaris. "This is an interest of mine for sure."
Sakelaris said he is thinking about attending Mesalands after he graduates from high school, to complete an Associate of Applied Science Degree in Wind Energy Technology.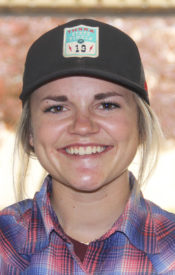 Kaylee Mitchell, 17, Dual Enrollment student from Clayton Municipal Schools, also climbed the turbine.
"I was super surprised at how this is one of the best schools for wind energy," Mitchell said. "There are so many other things you can do like farrier and cowboy arts. I think those are really neat programs they offer."
Andy Swapp, Wind Energy Technology Faculty at Mesalands Community College says he enjoys working with these young students.
"It was a fantastic group of high school students," Swapp said. "I believe for students who are taking an introductory wind course it's important for them to get to come to the campus, climb the wind turbine, and see exactly what they are reading about in their dual credit courses."
Next semester, the HPREC's NNMCCR plans to pursue additional academic offerings for dual enrollment students including, construction, health science, and welding.