At eleven o'clock on 11/11, members of the Mesalands community joined with members of VFW Post 2528 to commemorate Veteran's Day 2021. The local event was part of a coordinated national ceremony held simultaneously at VFW posts and other locations throughout the country.
Post commander and local businessman Slik Knapp gave a moving lecture about the history of Veteran's Day
and reminded the audience of the strong ties, including sacrifice of many kinds by so many – including
veterans – which bind us together. Originally celebrated as Armistice Day on November 11 th , 1919, to
commemorate the end of WW I, it has since become a day to honor all the men and women who have
served the nation.

Every Veteran's Day is special, but the 2021 commemoration also marked the centennial of the
dedication of the Tomb of the Unknown Soldier in Arlington National Cemetery on November 11, 1921,
and this anniversary was observed with special ceremonies at various locations nationwide. Since that
day, an honor guard of U.S military personnel have stood watch day and night at this solemn national
memorial.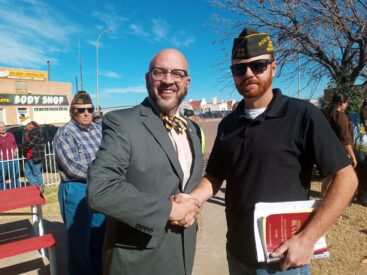 For the Tucumcari event, the Mesalands Community College Office of Student Affairs provided the
luncheon, which was served after the formal program concluded. The college was well represented at
the event by college president Dr. Gregory Busch, VP of Student Affairs Hazel Roundtree, Wind Energy
faculty member Andy Swapp (himself a veteran), and other faculty, staff members and students.
Student Affairs Veteran's Day Committee members Sabrea Skinner, Melanie Jones, and committee chair
Ernie Rogers were on hand to serve the repast, which was warmly appreciated by local veterans and
guests in attendance.