October 31, 2018
Mesalands Community College held a fall induction ceremony for students in the Beta Eta Omega Chapter of the Phi Theta Kappa (PTK) International Honor Society. Phi Theta Kappa is based on academic achievement and offers personal development through scholarship, service, fellowship,
and leadership.
Each candidate for membership in PTK, must have completed 12 credit hours that may lead to a declared associate's degree, with a grade point average (GPA) of a 3.5 on a 4.0 scale, currently enrolled in six credit hours, and adhere to the school code. A cumulative GPA of 3.25 must be maintained to remain in good standing.
Mesalands Community College's fall 2018 inductees in Phi Theta Kappa:
Fall 2018 Inductees
| | |
| --- | --- |
| Beverly | Harb |
| Dylan | Germaine |
| Kenneth | Hoke |
| Cassy | Loedolff |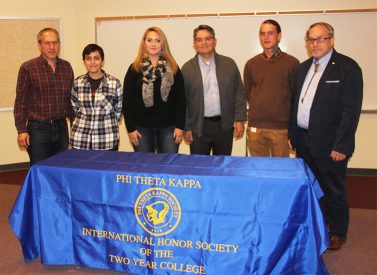 (left to right) Dr. Philip Kaatz, PTK Advisor and Math and Physical Science Faculty; Beverly Harb and Cassy Loedolff, PTK Inductees; Dr. John Groesbeck, President of Mesalands; Dylan Germaine, and Kenneth Hoke (not in photo), PTK Inductees; and Dr. Forrest Kaatz, PTK Advisor and Director of Institutional Research, took a quick photo at the induction ceremony.