May 22, 2017
Mesalands Community College recently received a Digital Low-Resistance Ohmmeter, the DLRO200 Microohmmeter, from Megger a Valley Forge, PA based manufacturer of portable electrical testing equipment. This new equipment is being used to enhance the curriculum and the hands-on training of the Wind Energy Technology Program at Mesalands, in order to better prepare technicians for a lucrative career in this growing industry.
David S. Danner, Director of USA Distribution Sales for Megger, has been working with Mesalands since 2008, to provide students in the Wind Energy Technology Program with up-to-date, high-quality electrical testing equipment. Danner explains the importance of these equipment donations.
"At the forefront of new technology and improved electrical service, Megger is pleased to be integrally involved with the educational process," Danner said. "To the end, we are proud to donate the DLRO200, a leading-edge low resistance ohmmeter, that promotes the highest quality in accuracy, reliability, and above all, safety."
The DLRO200 is a versatile piece of equipment that can provide test currents from 10 amps up to 200 amps. The electrical testing device is portable and weighs less than 33 pounds. The high current capability and compact design, makes this equipment suitable for testing circuit breaker contacts, switch contacts, busbar joints, or other applications where high current is needed.
Andy Swapp, Wind Energy Technology Faculty at Mesalands, says the DLRO200, also known as the Microohmmeter in the wind industry, is used to test the installation of conductors during the commissioning of wind turbines. He stated that the DLRO200 is also part of the maintenance plan of wind turbines and is used when an electrical problem is suspected. Swapp said he is appreciative of this donation and his wind energy students will greatly benefit from the use of this equipment.
"The DLRO200 is a valuable and highly specialized piece of equipment. Our students are using the DLRO200 donated by Megger, to familiarize themselves with the equipment and to practice safety procedures," Swapp said. "We feel very fortunate to have this opportunity to work with this incredible piece of equipment."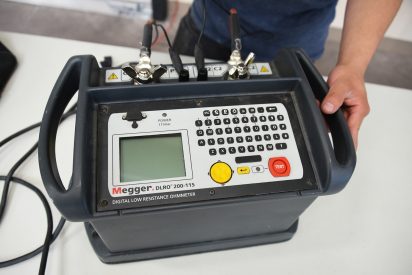 The new DLRO200 Microohmmeter