National Youth Leadership Forum on Law and Crime Scene Investigation Proves Specialized Insights
July 29, 2013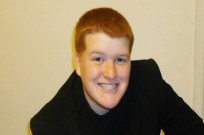 HD McClure, 15, a student at Mesalands Community College and Tucumcari High School, participated in the National Youth Leadership Forum on Law (NYFL) and Crime Scene Investigation (CSI), July 16-21, 2013. McClure was one of 487 outstanding high school students from across the U.S., that was selected to take part in this unique career development program at our nation's capital. This summer program introduced students to challenging careers in the legal profession and forensic science.
"It was a great experience and I'm glad I got to go. We met a lot of the nation's leaders, prestigious attorneys and judges. These are the people that work at some of the top law firms and keep the country going," McClure said. "We also got to see a lot of the great monuments of past presidents.
McClure stated that his ultimate goal is to become an attorney. He plans to continue taking classes at Mesalands and is looking forward to taking the new Introduction to Forensics class offered this fall. McClure is also working on getting accepted into the U.S. Marine ROTC Program. He hopes to receive his Associate of Applied Science Degree from Mesalands, at the same time he graduates from high school. He then wants to attend law school at George Mason University, while serving in the U.S. Marine ROTC Program.
McClure has already been highly involved in serving his community. He was a volunteer for the Summer Adventure Camp program at Mesalands for the last two years. He also assists with the Mesalands Rodeo Program, herding livestock during practice and helping at special events. He was a participant in last year's Texas Tech University Summer Math Academy 2012 at Mesalands. At Tucumcari High School, McClure competes in football, baseball, wrestling, and in track and field.
McClure attributes much of his success to Mesalands.
"Mesalands has helped me strive for greatness amongst my peers," McClure said "Everything that I've done here at Mesalands, has helped me to become a greater individual, and has helped me to do better academically. Mesalands has just made me better in every way!
McClure wanted to thank everyone that assisted in making this trip possible.