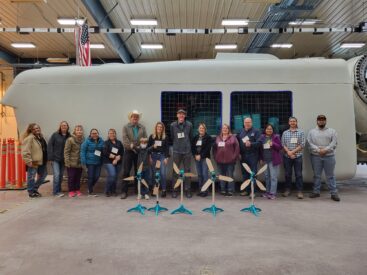 March 8, 2023 – The KidWind Challenge was held on Friday, February 24th from 10:00am to 2:30pm at the North American Wind Research and Training Center on the Mesalands Community College campus. Three schools from the region attended, including Tucumcari Middle School, along with Marshall Middle School and Yucca Middle School in Clovis. Approximately 88 participants competed, with teams of 2-6 people. Students built wind turbines out of materials such as cardboard and hot glue guns, then had 3 chances to test the speed of their turbines with a high powered fan. The top 2 teams with the overall fastest times were from Marshall Middle School, and qualified for KidWind Nationals in Boulder, Colorado this summer.

Many volunteers from Mesalands helped out with the event, including Acting President Dr. Allen Moss, Wind Instructor Terril Stowe, college students and employees. The sponsor of the competition, Pattern Energy, was also instrumental in the success. They provided transportation for out of town students, lunch, and access to turbine building resources. Pattern will also cover travel expenses for the 1st and 2nd place teams going to KidWind Nationals.

KidWind was established back in 2003. Since then, over 30 states have joined the challenge with more than 40,000 students. This is Mesalands' 2nd year hosting the competition after a hiatus due to Covid. With a workshop for teachers taking place each November before the wide scale event, educators are given the tools and resources to prepare their pupils for the turbine tests.

"The KidWind Challenge gets students and teachers enthused with learning about power from wind and that's what we're all about." Said Andy Swapp, Director of Renewable and Sustainable Technology at Mesalands Community College. "We hope to make this an annual event and would like to represent the entire state of New Mexico in the future."

Overall, the event was a great success. On top of students testing out their builds, they also had the opportunity to explore the nacelle in the wind bay, a replica of the turbine powerhouse. Students were also able to view the tower base of the on-site Mesalands wind turbine. Looking forward to next year, there are plans to encourage regional high schools to also participate.