Congratulations to Mesalands Student Nicholas Andrada, who has been selected as a recipient of the Hispanic Association of Colleges and Universities (HACU) Leadership-in-Residence Scholarship Award.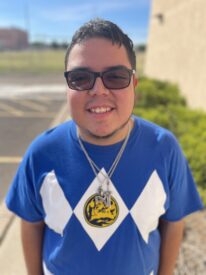 As an ¡Adelante! Scholar,Nicholas will be attending HACU's 35th Annual Conference on behalf of MCC. The conference will promote networking opportunities, expanded partnerships, and strategic alliances for cooperation and innovation between HACU member institutions, and we are pleased to have Nicholas represent us at this event. The conference, which runs from October 24th to the 27th , was originally scheduled to take place in Aurora, Co. However, due to ongoing COVID safety measures, this year's event will be conducted virtually.
Mesalands Community College has been an HSI-designated college for several years, but president Dr. Gregory Busch has made it an early focus of the new administration to expand and improve Hispanic student participation and engagement, and Dr. Hazel Roundtree, MCC's new VP for Diversity, Equity, and Inclusion, is working to expand our outreach.
Once again, Congratulations and Good Luck to Nicholas, and we will look forward to learning about all the new ideas and initiatives from his participation at this exciting conference.