February 7, 2017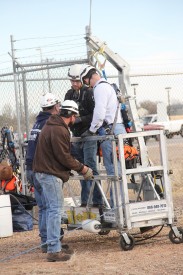 Mesalands Community College is pleased to announce that Granite Services International Inc. (Granite), an affiliate of General Electric (GE), recently expanded their wind energy technician training programs at the College's North American Wind Research and Training Center. Granite conducts their new hire trainings, summer intern trainings, and will now hold their recertification trainings for current employees, at the Wind Center. Granite plans to train at least 400 wind technicians within the next six months at Mesalands Community College.
According to Granite Services' website, Granite technicians are trained to rigorous standards and are deployed around the world, supporting technologies such as wind, nuclear, aero derivatives, and water treatment. Rene Teerlinck, Granite Services Resource Manager, who is in charge of the hiring and staffing of employees for wind farms, said prior to partnering with Mesalands, they did not have one facility that could support their various training programs. He said he appreciates the use of the Wind Center at Mesalands and having one location to train his employees.
"The facility itself at Mesalands Community College and the staff who support the facility are great! This is probably one of the top five facilities in the country, that we can do all of the training within Granite and GE. It's fantastic!" said Teerlinck.
Granite's training program includes the following: CPR/First Aid certification, new hire orientation, recertification training, tower rescue training, Occupational Safety and Health Administration (OSHA) 10 certification training, self-rescue training, wind technician internship program training, and a climb test. Teerlinck said from January to June of this year, he will have approximately 250 students for the recertification training, 150 students for the new hire training, and 15 students for the wind internship training program. This could be a reflection of the growing demands of the fastest growing career field in the nation, according to Bloomberg News.com.
"We never stop hiring! Our affiliate GE, has basically forecasted within the next couple years, to add an additional 300 jobs. This will be in addition to the number of employees we already have now. We need more employees to support the work that we have between wind turbine installation and maintenance, to customer support."
Dr. Thomas W. Newsom, President of Mesalands Community College, says he is excited to have more students from Granite utilizing the College's first-class facilities and contributing to the local economy.
"Mesalands Community College welcomes the opportunity to have 400 Granite students from all over the nation and all over the world, come to our College and to our community," Dr. Newsom said. "This recent expansion with Granite, will have a significant impact on our local community. We also appreciate being part of a four-year partnership that will contribute greatly to the future of the wind industry."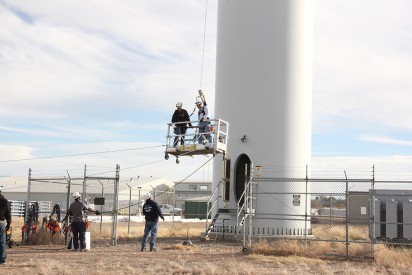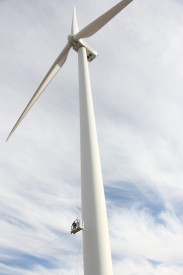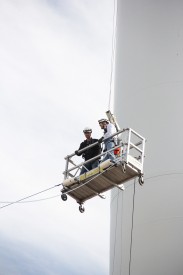 A variety of photos of students from Granite Services International, conducting training exercises utilizing the GE 1.5 megawatt wind turbine, located adjacent to the North American Wind Research and Training Center at Mesalands Community College.