Bond money will help fund higher education and specialty schools, create new jobs without raising taxes
October 19, 2016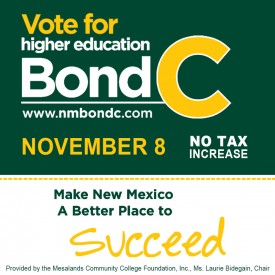 This November, voters in Quay County will be asked to invest in the state's public colleges, universities and specialty schools. General Obligation Bond C (referred to as GO Bond C) is asking voters to release $131,106,200 for New Mexico's institutions of higher education and the New Mexico School for the Deaf and School for the Blind and Visually Impaired, of which $2 million will be allocated to Mesalands Community College. These funds will be used for much-needed campus improvements. These voter-approved projects are estimated to create 12 new local jobs, without increasing property taxes.
For many of New Mexico's colleges and universities, GO Bonds are the only source of funding that allows for the repair and upgrade of aging structures, as well as a critical source of funding that allows institutions to invest in science, technology, engineering and mathematics (STEM) programs. These voter-approved funds are a critical component to ensuring our schools remain competitive and able to attract the best and brightest from around the globe.
"Voter support of GO Bond C in November will give Mesalands Community College the ability to reinvest in our infrastructure, allowing us to continue to provide our students with a world-class education, which will prepare them for a competitive and innovative marketplace," said
Dr. Thomas W. Newsom, President of Mesalands.
GO Bond C will invest more than $131 million into state's colleges, universities and specialty schools, without increasing the burden on New Mexico's taxpayers.
"GO Bond funds not only work as critical funding for Mesalands Community College, but inject economic life into the local economy by creating new jobs for architects, builders and contractors, while boosting spending to local businesses," Dr. Newsom said.
Absentee voting begins on October 11 and ends on Election Day, when absentee voters have the option to hand-deliver their completed ballot to any polling location within Quay County. Early voting begins on October 22 and runs through November 5, and Election Day is Tuesday, November 8, with polls open for in-person voting from 7 a.m.–7 p.m.