October 29, 2012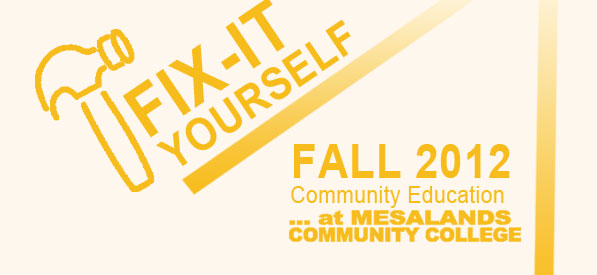 Mesalands Community College is offering "Fix It Yourself" community education classes this fall. Learn more about home weatherization, car maintenance, solar energy opportunities, and much more. Classes start November 10, 2012 and go through November 26.
Bill Menges, former Building Trades Instructor at Mesalands, will be teaching "Weatherizing Your Home." Learn simple and easy tricks to save money on home weatherization. Menges will also teach "Home Maintenance 101" in which he will address specific needs individuals have in regards to fixing items around their home. He will then instruct students on how to complete these projects.
Stephen McClure will teach "Car Maintenance 101." In this class McClure will cover simple car maintenance techniques, such as changing the oil in one's car, changing the air filters, and checking the tire pressure. He will also teach a class about simple steps on changing a flat tire.
Individuals interested in solar energy should enroll in the "Solar Excitement" class taught by Robert Hockaday, President and Founder of Energy Related Devices in Tucumcari. Learn about the latest advances in solar technology through demonstrations and hands-on learning.
"We are really excited about the upcoming solar energy community education course," said Donna Garcia, Director of Academic Affairs. "This is a preview of what is yet to come! In the near future we will be offering credit courses in solar energy and will soon expand to other renewable energy programs."
Starting in January 2013 Hockaday will be teaching SOL 101: Introduction to Solar Energy at Mesalands for college credit.
Other fall community education classes include, "Set Your Book on Fire….Kindle Fire That Is" with Gordon Runyan.  Learn the ins and outs of getting published and selling books on Amazon.com's Kindle store. Eddy Encinias, Tucumcari High School Football Coach, will be teaching the "Women's Guide to Football." Join Coach Encinias for a play by play interactive class on the game of American Football.