College offers one-stop enrollment event for students
August 7, 2017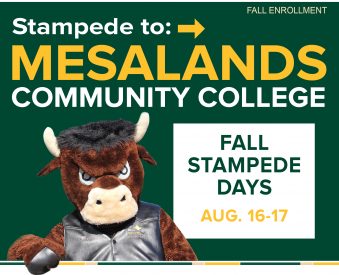 The start of a new semester is quickly approaching for students, faculty, and staff at Mesalands Community College. The College will have Fall Stampede (Enrollment) Days, August 16-17, 2017 from 9 am-6 pm in the Great Room, Room A223. During this one-stop enrollment event, new and returning students can apply for admissions and financial aid, take the placement exam, meet with an academic advisor, and register for classes.
Fall classes at Mesalands Community College will begin on Monday, August 21. The online class schedule is available at www.mesalands.edu/schedule.
Students that enroll in 12 or more credit hours, or have already pre-registered, will receive the free Stampede Gym Membership during the fall semester.
Students can still apply for financial aid for the fall semester by submitting a Free Application for Federal Student Aid (FAFSA). Financial aid is available for those who qualify. Staff members will be available during Fall Stampede Days to assist students with this process. Students may also schedule an appointment by calling (575) 461-4413, ext. 136.
Below are upcoming events for the fall semester:
Fall Stampede Days – August 16-17, 9:00 am-6:00 pm
First Day of Classes – August 21
Student Orientation – August 22, 2:30-4:00 pm
Welcome to Campus "Paint War and Pizza Party" –  August 22, 6:00-7:30 pm