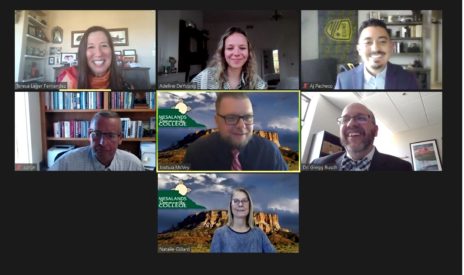 May 7, 2021 – Congresswoman Teresa Leger Fernández met with Mesalands Community College's President Dr. Gregory T. Busch via teleconference as an introduction to the new President. The Congresswoman presented an opportunity to address the needs of Mesalands Community College.
In his address Wednesday night (April 28), President Biden proposed the American Families Plan. This plan includes two free years of Community College. Congresswoman Leger Fernández asked for insights into what is being proposed and what constructs in the program would be meaningful to Mesalands Community College.
Dr. Busch communicated the enthusiasm rural communities would have in closing the equity gaps and the investment in student success. However, there were questions in the finer details that needed to be addressed. "What will the Community College portion look like?" also, "Where will the money come from? We are very rural, and we have many unique needs we hope that this plan will address for our students." Dr. Busch continued by outlining the challenges of attracting and retaining quality level faculty while also gaining access to rural areas with limited technology. He gave examples beyond digital connectivity, to leadership and training where the students reside in rural, difficult to reach locations. Students who had never had opportunities to leave their hometown, or constrained geographically from higher education, he stressed these students needed the same opportunities as metro areas.
He referred to his experience in Pima County, AZ. A large county who paid for a Community College, but few residents were able to access due to geographical limitations. He asked the question, "What if we could pipe in education to you?" These were students who were not inspired, they had no hope to go elsewhere. Education was piped in from the Community College into the High School. For the first time in history students were able to transfer into a University. The challenge of the rural Community College is not necessarily buildings, but geographical limitations and access to technology and internet effecting high level faculty retention and student success.
Congresswoman Leger Fernández was very impressed with the work Mesalands Community College was doing in Renewable Technology and the instructional programs the College extends to correctional facilities across the State. The correctional facilities presented opportunities that had not previously been considered and research proves that education reduces recidivism and produces more economically stable and safe communities.
"There are a lot of questions on the finer details of this bill. We look to you (Congresswoman Leger Fernández) and others to help us understand the finer points." Dr. Busch stated. In closing, Congresswoman Leger Fernández said she was looking forward to a visit and a tour of the Wind Center soon and praised the work of Mesalands Community College.