Chase Waters was celebrated this morning, at a ribbon cutting ceremony, as the new owner of the iconic Route 66 Del's Restaurant. Dr. Busch, President of Mesalands Community College, presented Chase with the Presidential Award of Excellence for his success and contribution to Tucumcari and as an outstanding member of the Mesalands Community College Alumni.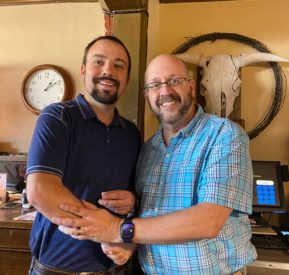 Del's Restaurant has been a fixture of Tucumcari, New Mexico and a well known restaurant on Route 66 since1956. The restaurant was owned and operated by Del Akin until 1978 when it was sold to his secretary, Jessica Braziel. Del had said a woman could never run it, but she ran it until it was sold to her daughters, Yvonne and Yvette, in 1995. The sisters continued their mother's legacy with great success and exceptional contributions to Tucumcari from multiple businesses in the community.
The restaurant has been preserved as a piece of history. Minimal renovation has been done to the building. Visitors walk across time on the original flagstone floor inside the original brick and mortar building. The well-known trademark Hereford bull sits atop the sign, as it did sixty-five years ago.
Chase Waters took ownership of Del's Restaurant today. About the transition, Chase stated on Facebook, "Yvette Peacock and her sister Yvonne have been the best to work with and love and appreciate them to no end. . ." He continued, ". . . It has been quite the ride already and can not wait to see everyone soon at Del's Restaurant."
Today, While dining with his family at the restaurant, Dr. Busch said, "It is a great thrill to see our students succeed and Chase exemplifies what Mesalands Community College stands for, student excellence and student success." He added, "On behalf of Mesalands Community College, we are pleased to welcome Chase in the business community and wish him many years of great success."