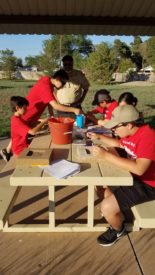 Fine Art lead Faculty Joel Kiser spent the last month with troop 226 out of Clovis and Portales, New Mexico as they completed their metalwork merit badge. The aluminum in the resin-bonded sand blocks had been collected from aluminum cans discarded along the road. Each boy scout created a unique design using a resin-bonded sand block. With the designs ready, each boy scout was taken through the aluminum pour foundry process. Each student was able to create a one-of-a-kind aluminum casting from start to finish. The scouts were also able to create some handmade tools using the blacksmithing forge thus completing their metalwork merit badge.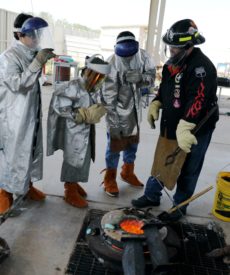 When asked the value of the activity Joel said, "As Art faculty, it is a true privilege to inspire using the art process in our community. We can make an immediate difference in these students' lives by challenging and encouraging their creative identities".
"For the boy scouts, the value is realized through the process of seeing their creative design go from paper to finished sculpture. Through their creative journey, they experience firsthand the metal casting process, machining aluminum, and forging metal to create their finished sculpture. Of course, they earned their metal arts badge, but there is so much more they gain from the experience such as teamwork, inspiration, and that creative spark. And just maybe they pursue that spark and come back to study art with us."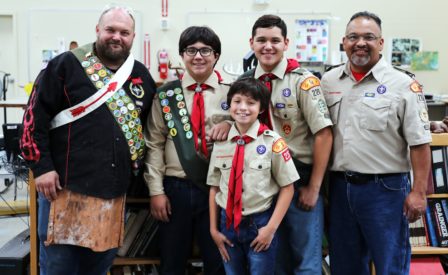 Joel Kiser, Chair of the Fine Arts, is also an Eagle Scout himself, and a Member of the Order of the Arrow. The Order of the Arrow has been around since 1910. This special rank within scouting focuses on conservation land and wildlife. "I would like to thank the scouts in troop 226 for an awesome afternoon of metal pouring! Special thanks to Armando Del Toro for his dedication to mentoring this these wonder scouts." As a special bonus Joel Kiser awarded the scout group a special merit badge, the "Peep badge", that represents the Mesalands Foundry mascot.
"In working with troop 226, I was reminded of how important positive mentoring is in our communities today. Mentoring isn't about knowing all the right answers, or about making the mentee a carbon copy of the mentor. It's about helping the students/mentee reach their full creative potential and be more themselves."
The Mesalands Fine Arts Program youth outreach welcomes any and all youth activity groups from Boy and Girl Scouts to 4H, FFA, and ENLANCE. Those interested please contact Joel Kiser at 575-461-4413 X. 167 or [email protected]