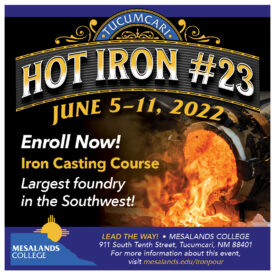 The Iron Pour is an annual event/course on campus. The course is 3 credit hours with a cost of $390.00. This is a flat fee for the course and includes tuition and casting fees. Registration requires a $100.00 deposit.
Students attend on campus for one week in an intensive course on casting Iron. Students participate in hands-on training while creating their art. Public events are held throughout the week to showcase art and encourage participation from the general public.
Registration
Students interested in registering should email Joel Kiser at

[email protected]

to begin the registration process.
Students are to begin the email with an introduction of themselves and an explanation as to why they would like to attend and what they wish to accomplish from the course.
Upon approval, students will receive a registration form through email.
Payment instructions will be given through the registration form.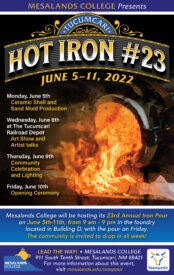 Scheduled Community Events
HOT IRON POUR ART SHOW
Wednesday, June 8th starting at 6:30 PM 
Location: Train Depot Museum
HOT IRON COMMUNITY APPRECIATION DAY
Thursday, June 9th
Meet the artists and make scratchblocks from 9am-5pm
Scratchblocks cost $20.00
COMMUNITY SCRATCHBLOCK POUR 7-9pm (NEW)
This event is free to the community to attend.  Artists will pour community artworks with various furnace demonstrations, music, and a pyroshow (Glow worm) at sundwon (7:30 p.m.).
HOT IRON ARTISTS POUR
Friday, June 10th starting at 1pm
This is a production pour focusing on casting visting artists works. ***yes we are pouring iron on both Thursday and Frid