Summer 2021 winner has been selected and will be notified. There is still a chance for the Fall drawing! All those enrolling or enrolled after April 13, 2021 until August 16, 2021 no later than 3 p.m. have an opportunity to win. Begin your career and Lead The Way with Mesalands Community College.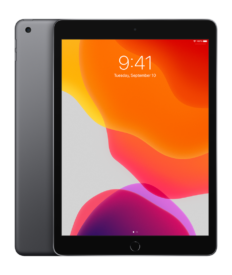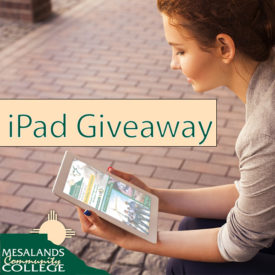 Early Enrollment (returning students)
Beginning April 13, 2020 students may enroll early for Summer and Fall 2021 Semester courses. Every early enrollment registered after April 13, 2021 and on or before May 22, 2021 (Summer giveaway/limit one iPad per giveaway) and August 16, 2021 before 3 p.m. MST (Fall Giveaway/limit one iPad per giveaway) qualifies for the iPad giveaway. Anyone enrolled or applied during the first giveaway qualifies for the Fall Giveaway.
The button above links to the schedule to choose courses for the 2021 Summer and Fall Semesters. Students needing help to choose courses pertaining to their program of study should contact their faculty advisor.
First Time Students Applying for Acceptance
New students accepted between April 13, 2021 and May 22, 2021 qualify for Summer giveaway and between April 13, 2021 and August 16, 2021 qualify for the Fall iPad giveaway. When students qualify for the first giveaway ending on May 22, 2021 they also qualify for the second Fall giveaway ending on August 16, 2021.
Clicking the New Student button allows the user to apply for acceptance in a program at Mesalands Community College for the Spring Semester 2021. Every new student accepted between November 10, 2020 and December 3, 2020 qualifies for the giveaway.