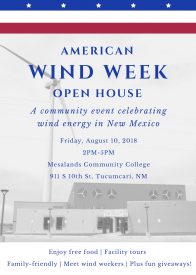 Mesalands Community College, Pattern Energy, and the American Wind Energy Association (AWEA) is holding a community Open House on Friday, August 10, 2018 from 2:00-5:00 pm at the North American Wind Research and Training Center.
This family-friendly event is part of a national celebration of U.S. leadership in wind power and the benefits it creates for all Americans. The Open House is one of nearly 30 events happening in 16 states from August 5-11 in recognition of the second annual American Wind Week.
During the Open House, community members will participate in interactive self-guided tours of the facility and the wind turbine. Refreshments will be served. There will also be a brief program starting at 2:30 pm featuring prominent speakers, including the Mayor of Tucumcari, Ruth Ann Litchfield and the President of Mesalands Community College, Dr. John Groesbeck.
RSVPs are not required, but are welcome online at https://p2a.co/dvxuAYv.
For more information, contact the Wind Energy Technology Department at (575) 461-4413, ext. 156.