Mesalands Community College will have Enrollment Stampede Day on August 15, 2019,
9 am – 6 pm in the Commons Area, located in Building A, for new and returning students. Mesalands faculty and staff will be available to help students through the enrollment and financial aid process.
Students can still apply for financial aid by submitting a Free Application for Federal Student Aid (FAFSA). Financial aid is available for those who qualify.
Students that enroll in 12 or more credit hours, will also receive the free Stampede Gym Membership, during the fall semester.
Classes for the fall 2019 semester will begin on Monday, August 19.
What's New
Mesalands will be offering a new Digital Business Entrepreneurship Program this fall. Stay tuned for more details.
Returning students may enroll online at: my.mesalands.edu
Enroll on or before August 15th and be entered to win a 50" Smart TV.

Additional Information
Course Schedule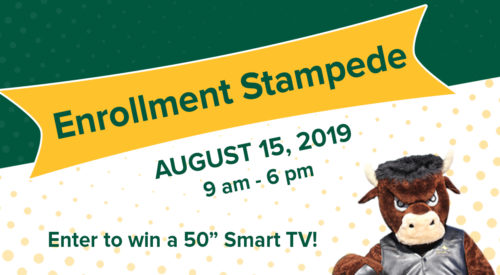 High School Equivalency Preparation
For more information, please contact the Student Affairs Office at (575) 461-4413, ext. 153.