Dr. Gregory T. Busch, President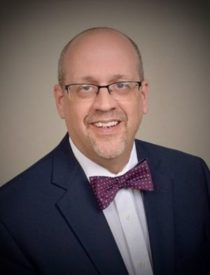 Dr. Gregg Busch comes with nearly 40 years' experience as a chief executive officer in the private, public, nonprofit sectors and, with more than 20 years, in higher education leadership and administration. He is a community college alum and a scholar, researcher, author, a seasoned culturally-inclusive community college leader, and recognized local, state, national, and international authority on student success, access, and community college leadership. Throughout his community college experience he has served as an adjunct instructor, full time assistant professor (recognized three times as Professor of the Year, twice recipient of Distinguished Professorships, and ranked among the top 2000 professors worldwide by Cambridge University), discipline coordinator, program coordinator, dean of academic and student affairs (two institutions), lead for accreditation and strategic enrollment management, chief diversity officer (three institutions), dean for articulation and transfer, dean of the honors college (two institutions), chief academic officer, vice president for instruction, vice president for dual enrollment, vice president for guided pathways, and an elected member of the board of trustees of a community college. He is a national leader of educational reform having led statewide initiatives to improve student success, access, reduce student debt, and close the equity gap for minority students. He currently serves on the adjunct faculty for St. Leo University instructing doctoral candidates in doctoral program for higher education and administration, guiding research for doctoral candidates in writing dissertations, and building upon the contemporary literature of issues facing higher education and community colleges in particular. He is the co-founder, chief operating officer, and senior consultant of The Busch Professional Group, LLC and has consulted with numerous colleges on improving student success and a variety of issues facing higher education today.
He is originally from a very rural community, much like Tucumcari, in West Virginia and has focused much of his research and publications on leadership of rural community colleges. He was a former Vice President at Pima Community College in Tucson, Arizona and experienced with minority-serving institutions, especially Hispanic-serving institutions. In addition to his leadership on the PCC West Campus, he was responsible for college wide implementation of guided pathways, expansion of high school partnerships, and development of concurrent enrollment. On the PCC West Campus, he oversaw the Centers of Excellence for Fine Arts, Nursing, Allied Health, and Athletics. Prior to arriving at Pima, he served six years as an academic dean and dean of the honors college at North Central State College in Mansfield, Ohio where he also served as the campus diversity officer and assisted in the development of on-campus housing for community college students. He served three years as Dean of Arts and Sciences at Washington State Community College in Marietta, Ohio where he received national recognition for his college-wide leadership of assessment and accreditation. He is a 2020 and 2021 nominee for the Global Top 100 Leaders in Education Award from the Global Forum for Education and Learning and the recipient of the national award for Teaching and Leadership Excellence from NISOD.
He was the founding State Team Lead for Educational Reform through Complete College America (where is also a national student success content expert) for Arizona and worked with government leaders along more than 20 college and university leaders to improve success for more than 400,000 Arizona students. He has a long history of working with government leaders at all levels and twice represented community colleges with Congress in Washington, DC to improve STEM opportunities for women and girls and to help shape the congressional agenda for community college education. He is also a member of the Peer Review Corps of The Higher Learning Commission which is responsible for the regional accreditation of Mesalands Community College.
He has spoken at various state, regional, and national leadership and higher education conferences developed and published the Community Capitals Framework for Improving Student Success, a model growing in popularity for colleges to more fully integrate resources with a proven result of increased student success and a 3-D Model for Rapid Implementation of Project Management. He holds a Master of Science degree from West Virginia University, School of Medicine, where he also specialized in epidemiology, pandemic studies, and crisis management. He has additional post graduate studies in Sociology and Clinical Psychology from Marshall University Graduate College and a Doctor of Education from West Virginia University in Higher Education Administration and Leadership.
His wife, Mary Beth, is his high school sweetheart and a consultant and former community college dean and vice president for workforce and economic development and a statewide leader of workforce development in both Ohio and West Virginia. He is the proud father of Nicholas, a tenured community college political science professor, and Grace Faulkner, a coordinator of infectious disease and epidemiology. But of all of his experience, he still claims that he is most proud to Pap to his three grandchildren, Max and Harper Busch and Althea Faulkner.
Mr. Jim Morgan, Vice President of Campus Affairs and External Relations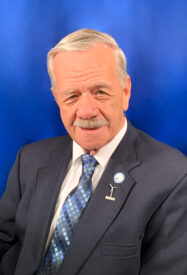 Mr. Jim Morgan is a Tucumcari native graduating from Tucumcari High School
in 1961. He enlisted in the U.S. Navy immediately the following graduation and
served on six U.S. Navy submarines including 5 missile submarines and serving
in the Cuban Missile Blockage on the USS Quillback SS464. In 1967 he was
selected for the Navy ROTC program attending University of New Mexico,
Albuquerque, NM. In 1971 he graduated with BSEE with Cum Laude honors
and graduate courses in Nuclear Science and was commissioned an Ensign in the
U.S. Navy after attending the Naval Academy Preparatory School in Newport,
Rhode Island.
After five more patrols, now totaling nine patrols on US missile submarines all
out of Holy Loch, Scotland, in 1974 assigned Chief of Naval Operations staff in
Washington, DC and then in 1976 to USS Dolphin AGSS, the world's deepest diving submarine. In 1979 attended Trident Missile Submarine School in
Bangor, Washington and then assigned as Trident Navigator on the USS
Michigan SS(B)N 727, home ported Bangor, Washington.
Retired August 1981 and then employed from retirement till 1999 as Outage
Manager with ABB, refueling civilian nuclear power plants.
Joined Mesalands Community College in April 1999 as a computer technician II.
Currently, VP for Campus Affairs & External Relations. His primary duties
include Institutional Technology, Facilities, Grounds, Maintenance, Business
Office including payroll and account receiving and payable, Campus Safety and
Security, and Auxiliary Enterprises such as Bookstore, Dinosaur Museum, and
Food Service. As a member of the Executive team he has responsibilities across
the campus, and is involved in many campus-wide committees and projects.
Mr. Morgan's general responsibilities include:
Institutional Technology
Facilities, Grounds, and maintenance
Business Office
Grants Management and Capital Procurement
Human Resources
Auxiliary Enterprises
In addition to these tasks, each area is charged with expanding our services to students which will lead to greater success and access for our students and also bring Mesalands to a competitive level with other community colleges of which already offer these services. These include, but are not limited to:
Development of Program Advisory Committees with Community Partners
Campus Safety and Security
Auxiliary Enterprises
Mr. Joshua McVey, Vice President of Public Relations, Student Transfer Services, and Strategic Enrollment Management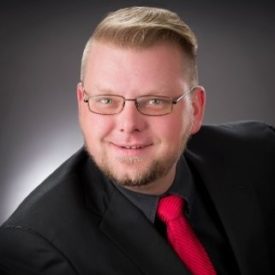 Mr. Joshua David McVey became Vice President in June of 2021. He previously served as Faculty, Web Specialist, Director of Public Relations, and most recently Chief Marketing Officer. Josh earned his MA in Communication from Eastern New Mexico University.
Mr. McVey has spent his professional career working in the private and public sectors as Marketing Manager and Director. He has nearly twenty years in administrative experience. His corporate experiences include Comcast, Spectacor, Global Spectrum, and Sodexo Int.
In addition to his marketing experience Mr. McVey has written two books and contributed a chapter in a Humanities textbook published by Nova Science edited by Dr. Shaughnessy (Humanities: Past, Present, and Future). He hosts and produces a podcast called "Here Am I". Mr. McVey earned his undergraduate degree in Biblical Literature from Ozark Christian College. He has chaired multiple community boards on marketing, chaired Young Professionals, and been a marketing consultant for several boards, businesses and communities. His work has encompassed many different venues and marketing opportunities. He has led conventions at the state level and presided over several conferences.
Mr. McVey's responsibilities include marketing and public relations encompassing all the tasks therein.
Internal Communication
Internal Website development (my.mesalands.edu)
External Website (mesalands.edu)
JPUG
Emergency Communication
Communication Process Mapping
Press Releases
Community Involvement
Fall Rodeo
Social Media Marketing
Prospective Student Data Capture
Promotional Materials
Publications
Sponsorships
State Collaboration
Media
Faculty and Staff Presentations
Brand Identity
Institutional Policies
In addition to these tasks, he has been charged with expanding the College's services to students which will lead to greater success and access for our students. These include but are not limited to:
Development of a Student Transfer Center
Leads campus-wide process mapping to assure continuous quality improvement
Webmaster
Financial Aid
Recruiting
Career Placement
Strategic Enrollment management utilizing an enrollment pipeline model to move students from pre-prospects to enrolled
College brand enforcement