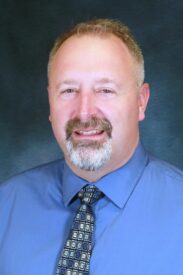 Dr. Allen Moss, Interim President
Dr. Allen Moss was appointed Interim President on February 14, 2023. He previously served as the Senior Executive Director of Concurrent Enrollment and Academic Outreach beginning July 15, 2022 for Mesalands Community College. As a part of that role, he oversaw both the dual enrollment and correctional programs offered by the college.
Dr. Moss has spent the majority of his career in K-12 education. He served as a CTE Business Instructor, K-12 principal, and completed his 10th year as a school superintendent with the Houston School District in Houston, MO.
Dr. Moss completed his undergraduate degrees in Business Administration-Accounting at Missouri Southern State University (Joplin, MO), followed by his Masters and Specialist Degrees with William Woods University (Fulton, MO). He completed his doctorate in Educational Administration with Lindenwood University (St. Charles, MO) in 2016.
In addition to his educational role, Dr. Moss is currently a member of the Tucumcari Rotary Club and has served in Rotary and the Lion's club throughout his career. He has served as a University Extension Council board member for several years.
Mr. Joshua McVey, Vice President of Student Affairs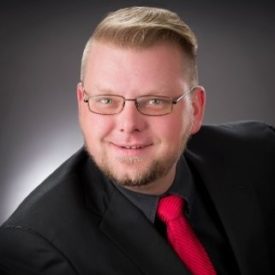 Mr. Joshua David McVey became Vice President in June of 2021. He previously served as Faculty, Web Specialist, Director of Public Relations, and Chief Marketing Officer. Josh earned his MA in Communication from Eastern New Mexico University (Portales, NM).
Mr. McVey has spent his professional career working in the private and public sectors as Marketing Manager and Director. He has over twenty years in administrative and leadership experience. His corporate experiences include Comcast, Spectacor, Global Spectrum, and Sodexo Int.
In addition to his marketing and leadership experience Mr. McVey has written two books and contributed a chapter in a Humanities textbook published by Nova Science edited by Dr. Shaughnessy (Humanities: Past, Present, and Future). He hosts and produces a podcast called "Here Am I". Mr. McVey earned his undergraduate degree in Biblical Literature from Ozark Christian College (Joplin, MO). He has chaired multiple community boards on marketing, chaired Young Professionals, and been a marketing consultant for several boards, businesses and communities. His work has encompassed many different venues and marketing opportunities. He has led conventions at the state level and presided over several conferences. 
Mr. McVey's responsibilities include strategic enrollment management, student life, recruiting, and marketing.